Second lawsuit against Black Lives Matter likely to be tossed out, judge says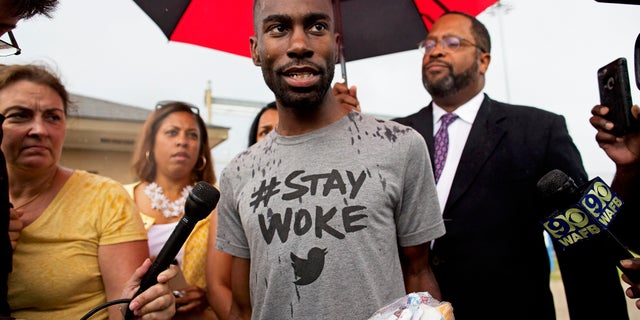 A federal judge in Louisiana said in a court order Wednesday that he plans to toss out a second lawsuit filed against Black Lives Matter, unless prosecutors can prove why he shouldn't.
The lawsuit was filed in July on behalf of a Baton Rouge police officer who was injured in the deadly attack on police on July 17, 2016, which left three officers dead and three others injured.
Black Lives Matter, DeRay Mckesson, a leading activist in the movement, and four other leaders were specifically cited in the suit, which claims they "incited violence" that led to the police ambush by Gavin Long, the lone gunman in the 2016 attack.
U.S. District Judge Brian Jackson said that the prosecution has until Oct. 13 to present an argument against the case's dismissal.
BLACK LIVES MATTER SHOUTS DOWN ACLU: 'YOU PROTECT HITLER, TOO!'
The attack happened less than two weeks after a white Baton Rouge police officer shot and killed Alton Sterling, a 37-year-old black man.
In the judge's order, he said that the facts of the case don't specifically suggest responsibility to any of the listed defendants for the officer's injuries "even assuming that those Defendants have the capacity to be sued."
That part of the order is in reference to a previous lawsuit against Black Lives Matter and Mckesson on Sept. 28. At the time, the judge ruled that Black Lives Matter was a social movement - not an entity - and therefore could not be sued.
The earlier suit was filed by another Baton Rouge police officer who was injured during a Black Lives Matter demonstration on July 9, 2016.
The unnamed officer also tried to sue #BlackLivesMatter, but the judge ruled that a hashtag could not be sued either.
The Associated Press contributed to this report.