Reporter's Notebook: Stewart's Rally for 'Sanity' Draws Insane Crowd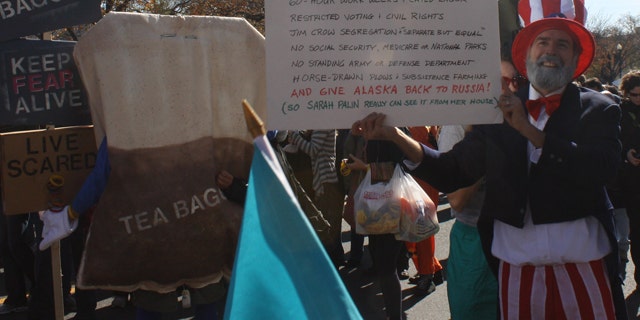 "Good luck trying to get through that crowd to the stage."
Those were the first words I heard within 15 minutes of joining the large crowd that flocked to the National Mall Saturday for the Rally to Restore Sanity and/or Fear hosted by comedians Jon Stewart and Stephen Colbert.
To say that you couldn't see the stage, or even hear it, wouldn't be an exaggeration— many had to climb a tree (literally) to even catch a glimpse of the one jumbo TV screen.
"We did the march-of-the-penguins walk in the crowd for about an hour," Georgetown University student Anam Raheem told me. "But it was too crowded; we had to turn back."
Thousands of rally goers brought signs and costumes in support of politically hot-button issues.
"I came to meet some people," said Mark Feeney, a resident of Buffalo, New York who sported a green outfit with a sign that displayed the benefits of marijuana. "But we have to be smart, not stupid. If we legalize pot, we'll create more revenue and jobs."
Although Proposition 19, which would legalize recreational marijuana in California, was one of the more common issues seen on signs, other topics were equally supported, such as abortion, equality for gays, space travel, and most vehemently, backlash against the Tea Party movement.
"I came to have fun," Pennsylvania resident Eric Hafner said, "But we need to also show people that extremism is really overblown."
Tea Party candidate Christine O'Donnell was most widely targeted, with many rally goers dressed as witches or giant tea bags, holding signs that read, "Tea Party rallies need more tea."
Despite both Stewart and Colbert's appeal to a younger generation, there was an eclectic age range of rally goers, including marijuana-supporting seniors.
"We love both the 'Daily Show' and 'The Colbert Report,'" said Diane Gatley who is 61. "Back to sanity for us. They're truthy."
Although the stage and entertainment was unseeable for at least half the rally goers there, there was a sense of community support that's hard to find on a daily basis.
As one rally goer attempted to scale a tree for a better view of the stage, the crowd chanted, "Yes, you can!"
Joe Bland is a FoxNews.com intern who traveled to D.C. on his own to check out the scene.