Racist Language Found in California County's Home Ownership Documents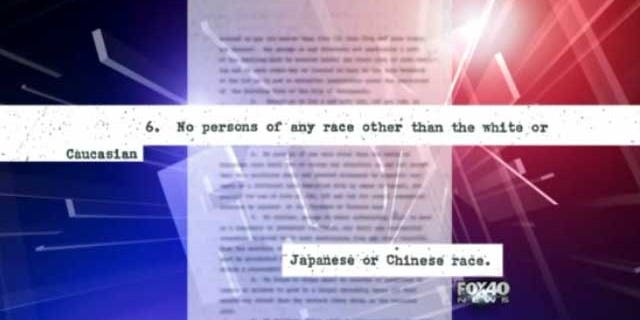 NEWYou can now listen to Fox News articles!
The notion of "whites only" accommodations and "separate but equal" may seem like something from the distant past, but such racially segregationist language is still on the books in one California county.
For Sacramento County residents living in some neighborhoods, the title documents to their properties still contain racist regulations, such as "No persons of any race other than white or Caucasian shall use…"
That language can be found in the "Covenants, Conditions and Restrictions" documents for an unknown number of homes in the county.
In another example, an exception was made for tenants using retail space, saying "persons of the Japanese or Chinese race" are allowed to use it.
Fox 40, which made the discovery, found that most clauses regarding employment also made exceptions for, "domestic servants of employees."
The language is a holdover from an earlier era, not a new campaign of discrimination, but since such terminology is now illegal, Fox 40 asked Sacramento County Clerk/Recorder Craig Kramer it still exists on legal documents.
For a homeowner to change the language and make the document legal, Kramer said, "we have to go to our counsel – our attorney – and have them verify the document to make certain there's nothing else being stricken from it. Because of that, it takes some time."
He said that there was no way to predict the number of homes that still have documents with such language, but he noted that a state law in 2006 made changing the title documents easier.
Since then only 12 homeowners have actually made the change.
Click here to read more from Fox40.com and see a video of the investigation.