Pulse nightclub killer's wife to be released from jail ahead of trial
Noor Salman, the wife of the killer who opened fire at the Pulse nightclub in Orlando last summer, will be able to leave jail within days ahead of her trial on charges of helping carry out the massacre, a federal judge in San Francisco ruled Wednesday.
MURDER SUSPECT ALEX DEATON CAUGHT AFTER MULTI-STATE MANHUNT
In announcing her decision, U.S. Magistrate Judge Donna Ryu said Salman, 31, was not a danger to the public and had no credible connections to the Islamic State terror group -- which the prosecution strongly disputed. Salman will have to remain in jail for at least two days, giving the feds time to appeal.
Her husband, Omar Mateen, pledged allegiance to several terror groups during the shooting that killed 49 people in June of last year before police killed him. After the attack, Salman moved from Orlando to her mother's home in Rodeo, outside San Francisco, where she was arrested in January.
FACE-BITING SUSPECT'S APOLOGY IS 'ELABORATE LIE,' VICTIM'S SON SAYS
Salman drove her husband to the nightclub at least once before the attack, a law enforcement source told Fox News. It also emerged that she shopped with Mateen at a Walmart the night before the attack, when he stocked up on ammo.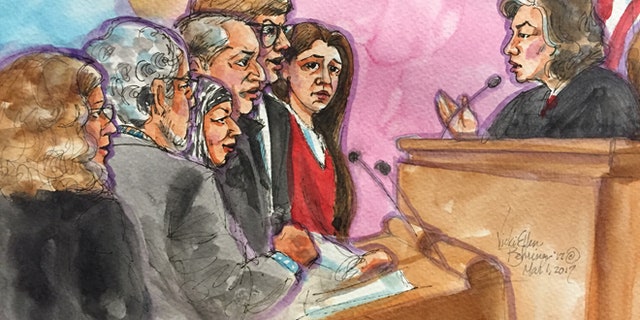 In addition, the couple texted each other during the massacre, investigators said. Mateen reportedly asked his wife, "Do you see what's happening?" She was said to have replied, "No?", as Mateen responded, "I love you, babe."
Salman failed four lie detector tests before she faced charges, a source close to the invesigation added.
The judge said Salman would have to wear an electronic ankle monitor while she lives with her uncle in Northern California.
"She wants to be home," defense attorney Linda Moreno told reporters outside court on Wednesday. "She wants to see her son," attorney Charles Swift added.
Salman's mother and uncle put up their houses to guarantee that Salman would not escape. Ryu called the conditions of Salman's release "essentially house arrest," because she can leave only for court appearances, meetings with her local attorneys and doctor's appointments.
Salman has pleaded not guilty to charges of aiding and abetting Mateen and lying to investigators after the shooting. A trial has not been scheduled.
Salman initially said she didn't know anything about the attack but later told investigators Mateen abused steroids, was "pumped up" on the night of the attack and said "this is the one day" as he walked out the door, federal prosecutor Sara Sweeney has said in court.
Sweeney also said the couple ran up $25,000 in credit card debt and spent $5,000 in cash in the days before the shooting. Among the purchases was an $8,000 diamond ring for Salman. In addition, they made Salman the death beneficiary of his bank account, prosecutors said.
Swift said outside court earlier this month that Salman made those statements without a lawyer present during an 18-hour interrogation immediately after the attack.
Fox News' Malia Zimmerman and The Associated Press contributed to this report.