'Plain Jane Bandit' strikes another Southern California bank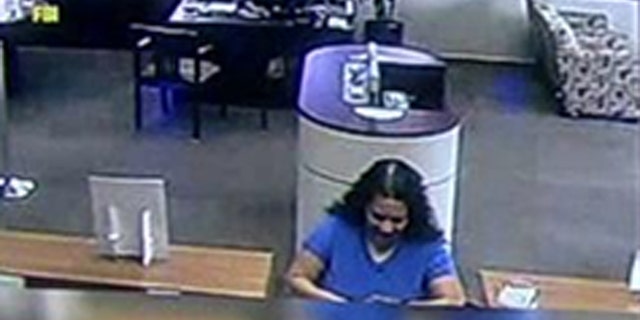 The "Plain Jane Bandit" strikes again.
For the seventh time this month, a woman who fits the description of the bank robbery suspect known as the "Plain Jane Bandit" reportedly struck another Southern California location Monday afternoon.
It is unclear if she made off with any money, but her method appears to be consistent with other heists.
Witnesses told CBS' Los Angeles affiliate that the suspect -- described as a Hispanic, about 35 years old and average height-- slips a bank teller a note demanding money and claiming there's an accomplice waiting for her.
After the incident, local police and FBI agents were at the Bank of America location.
The suspect got her nickname from a witness who told investigators that she looked like a "plain Jane," The Press-Enterprise reported.
The investigation is being conducted by the Downey Police Department and the FBI. Officials at U.S. Bank are offering a reward of up to $10,000 for information leading to the conviction of the suspect.
Click for more from the CBS affiliate report
Click for more from The Press-Enterprise