One killed, at least 100 injured in Missouri tent collapse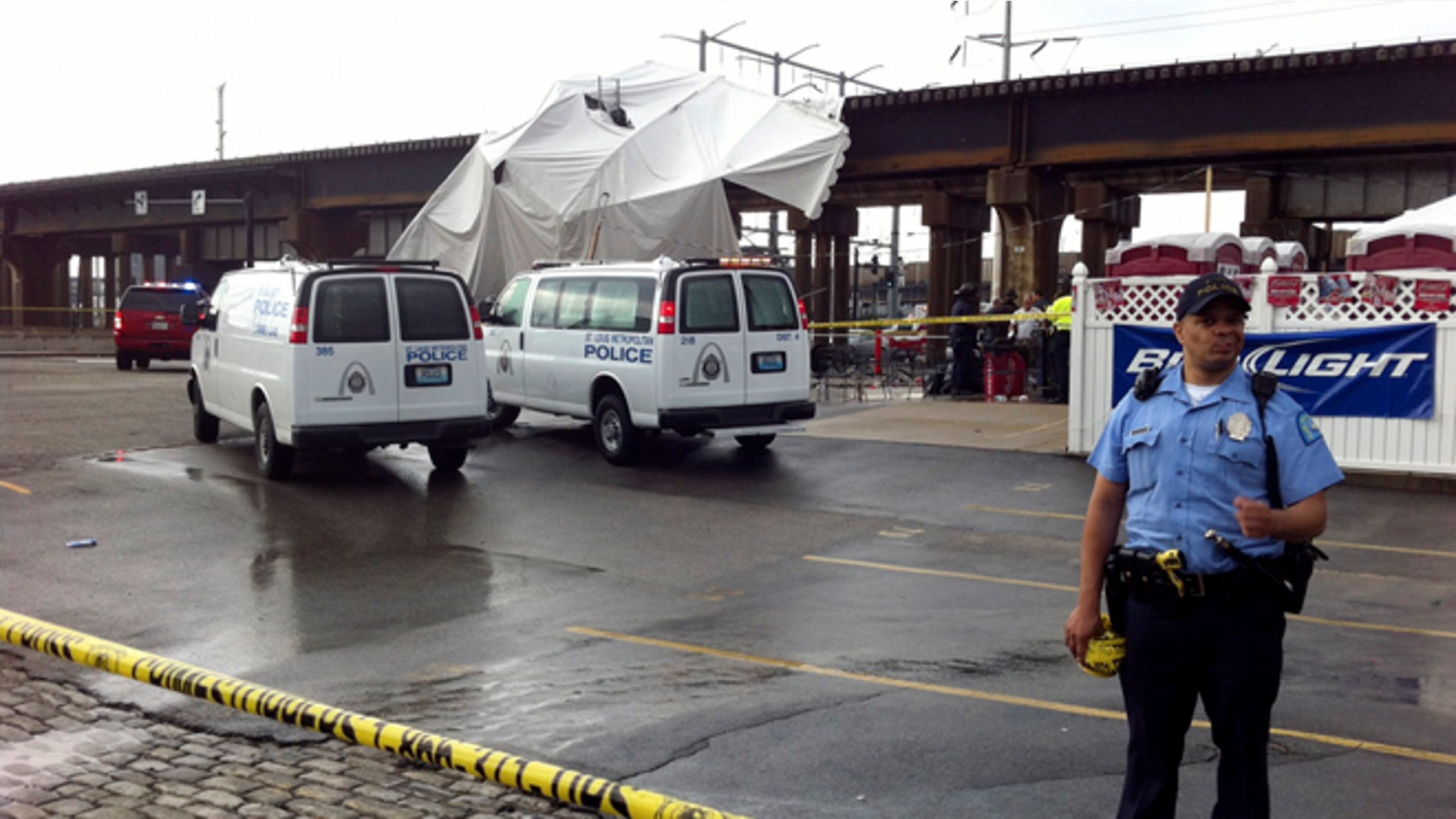 ST. LOUIS – High winds swept through a beer tent where 200 people gathered after a Cardinals game Saturday, killing one and critically injuring at least five others, authorities said. But the owner of the bar said it was lightning -- not wind -- that killed the patron.
At least 17 were hospitalized and up to 100 people were treated at the scene after officials said straight-line winds whipped through a large tent outside Kilroy's Sports Bar, near Busch Stadium. The crowd was celebrating after the Cardinals had beat Milwaukee 7-3 earlier in the afternoon.
Kilroy's owner Art Randall said things were flying through the air sideways and metal chairs were being flung across the beer garden by the storm.When he heard the boom, he initially thought a train had derailed into the tent.
As the wind blew, a bolt of lightning crashed into the bar, Randall said. He said firefighters told him it was a lightning strike -- not flying debris -- that killed the man.
Witnesses said the storm lasted several seconds and estimated the winds were between 60 to 80 mph.
Eddie Roth, director for the St. Louis Department of Public Safety, said the strong winds shattered the aluminum poles that held up the tent, which was located south of the stadium. The force of the wind blew the tent onto an adjacent railroad bridge.
Emergency officials said 16 people were taken to hospitals with injuries ranging from minor to very serious. KSDK reported that fire officials said five people were in critical condition and 100 people were treated at the scene.
St. Louis public safety director Eddie Roth said the man killed appeared to be in his 50s. His name has not been released.
Roth said the tent had passed inspection and it didn't appear there would be any violation, although the investigation is ongoing.
The St. Louis area was under thunderstorm and tornado warnings several times Saturday. About two hours after the incident at Kilroy's, tornado sirens blared throughout the city after a funnel cloud sighting. There were several reports of tree damage, power lines down and damage from hail that in some parts of the region reportedly was as big as tennis balls.
The Associated Press and NewsCore contributed to this report.