Oklahoma jail escape: 2 inmates captured, 2 at large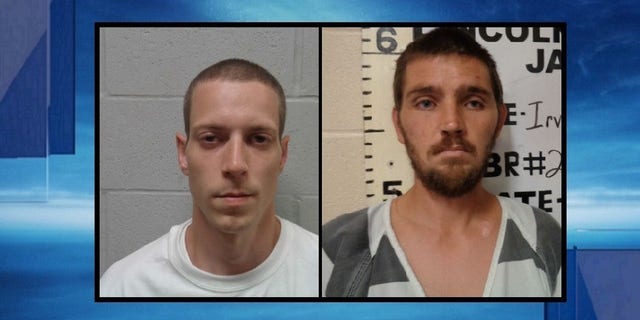 NEWYou can now listen to Fox News articles!
Two Oklahoma inmates, including a first-degree murder suspect, were recaptured Wednesday, two days after they escaped a jail with two other prisoners who are still at large, officials announced.
Trey Glenn Goodnight, 27, and Jeremy Tyson Irvin, 31, who are charged with property crimes and first-degree murder, respectively, were taken into custody just after 1 a.m., Fox 25 reported.
Fishermen first spotted the two escapees about 9 p.m. Tuesday and pinned them down while officers searched for their exact location via helicopter.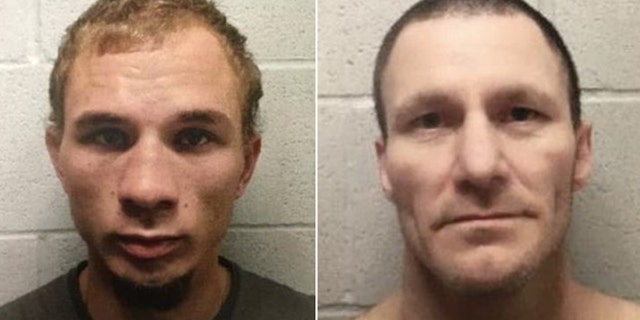 Brian Moody, 23, and Sonny Baker, 41, who also escaped the Lincoln County Jail with Goodnight and Irvin early Monday morning, are still at large. Both inmates were convicted of property crimes. Moody and Baker previously escaped using the same vents in March. The four inmates escaped the jail between 1 and 4 a.m. through the facility's ventilation system.
REWARD INCREASES TO $70,000 FOR ESCAPED GEORGIA INMATES
Of the two vehicles expected to be connected to to the crime, one has been found. Officials are still searching for a red or silver Dodge pickup that may have been used by Goodnight and Irvin. The second, a white Dodge pickup was spotted by an Oklahoma Highway Patrol Trooper Monday afternoon. It was left on the side of the road and several people were spotted running from it. Authorities shut down the area for several hours while they inspected and searched.