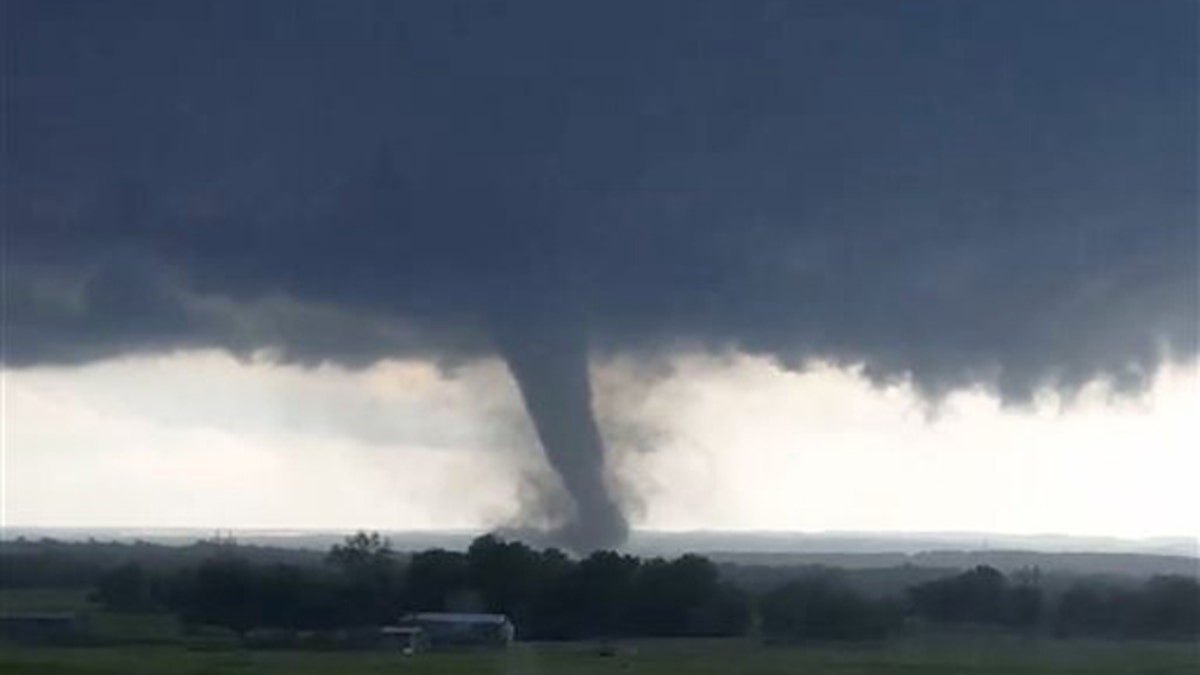 Oklahoma's governor declared a state of emergency Tuesday evening for 15 counties that were affected by a mix of tornadoes, flooding and severe storms that caused two deaths and destroyed homes on Monday.
Gov. Mary Fallin's order will permit state agencies to make emergency purchases and acquisitions to expedite the delivery of resources to affected communities.
The counties included in the emergency declaration are: Atoka, Bryan, Choctaw, Cleveland, Coal, Comanche, Garvin, Johnson, Kay, McCurtain, Murray, Noble, Payne, Stephens and Tillman.
Officials in Garvin County, south of Oklahoma City, said a man believed to be in his upper 70s died Monday when a tornado hit a home near Wynnewood. Just to the southeast, in Johnston County, the sheriff's office said a man was killed by a tornado near Connerville.
The Oklahoma Office of Emergency Management reported the storms destroyed a radio station building in Coal County and an undetermined number of homes in Murray, Garvin and Johnston counties. Murray County Emergency Management Director Gary Ligon said one person was injured.
Surveyors from the National Weather Service found damage consistent with an EF3 tornado in Garvin and Murray Counties.
An EF3 tornado carries wind speeds of 136-165 mph.
Forecasters had declared a "tornado emergency" for the communities of Roff, population 725, and Hickory, population 71, though both towns were spared major damage.
Dana Lance was driving through Roff on her way home from work Monday when the skies grew ominous, sirens wailed and forecasters on the radio told people to take cover. "I parked and went into the school, which has a safe room," Lance said. "There were kids and elderly people, dogs and cats, babies. It was like the whole town was there."

In Hugo, near the Red River, Charles Webb piled one of his dogs and one of his cats in the laundry room Monday and hunkered down as the storm came over his house, clipping trees and spinning up debris. Webb said he emerged from his home minutes later to see blue skies.
"We're real lucky, but we've been lucky for a lot of years, fortunately," Webb said Monday.

In the rolling hills between Oklahoma City and Dallas, the Oklahoma Highway Patrol closed Interstate 35 near Wynnewood for 15 minutes Monday so the storm could pass.

Jessica Randolph, a cashier at the Love's Travel Stop in Paul's Valley, Okla., said the tornado came so close that managers ordered employees and customers to take shelter.

"They put us in the showers," Randolph said. "I drove in when all of that was going on. All we had was pea-sized hail."

Despite the danger, Randolph said she has seen severe weather before and wasn't frightened by the experience.

"Not for me. I'm used to it," she said.

The National Weather Service said a tornado touched down in central Iowa, with no immediate reports of damage, and another hit near Nehawka, Neb., about 30 miles south of Omaha.

Sandy Weyers, the director of the Cass County (Neb.) Emergency Management office, said a homeowner didn't make it inside by the time the tornado arrived so he grabbed onto a tree and "rode it out." Weyers said the man suffered only cuts and scrapes, while the home was a total loss after the roof and four outer walls gave way.
Another storm system should bring storms to the area from north Texas to near St. Louis on Wednesday.
The Associated Press contributed to this report.