New York Beach Community Becomes Dumping Ground of Death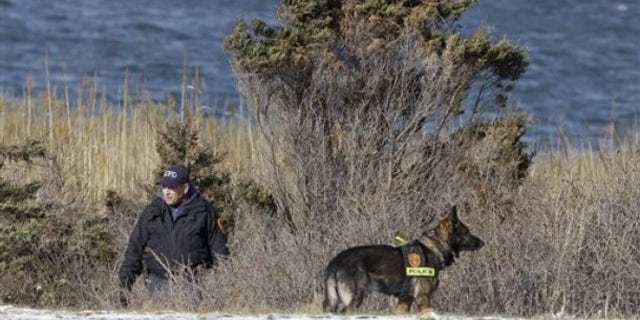 NEWYou can now listen to Fox News articles!
CAPTREE STATE PARK, N.Y. -- Killers have long chosen isolated locations to secretly dump their victims: Gary Ridgway got the Green River Killer moniker for leaving women he murdered along the waterway near Seattle, some of New York serial killer Joel Rifkin's 17 victims were found in shallow graves on eastern Long Island or in creeks in Brooklyn, and in 2008 the FBI found the body of a slain mobster buried in a Long Island industrial park.
Authorities on Long Island suspect a serial killer may be responsible for the deaths of four prostitutes found in December dumped just steps from an isolated beach highway, but news this week that other killers have used the same strip of Ocean Parkway near Jones Beach as a dumping ground of death ratcheted up an already intense investigation.
"It is clear that the area in and around Gilgo Beach has been used to discard human remains for some period of time," Suffolk County District Attorney Thomas Spota said.
Spota released additional clues this week about four other victims, including two women whose torsos were left years ago 45 miles away in the woods off the Long Island Expressway. Their heads and limbs were found near the beach this spring. An unknown man and a toddler are among the latest Ocean Parkway murder mysteries confronting detectives.
And that's not all: Remains found at two locations along the same highway in neighboring Nassau County have yet to be identified. Ten sets of remains, and an unknown number of killers.
The FBI in 2004 established a database to track serial killings along U.S. highways. Since that time, it has compiled information on 595 victims and 275 suspects. Many of those crimes are believed to involve victims of over-the-road truckers or others who were found at truck stops, gas stations or restaurants along major highways. A Suffolk County police spokeswoman said all pertinent information about their investigation has been sent to the FBI, although the parkway doesn't allow access to commercial truckers.
The FBI last month provided high-tech aerial photography of the Ocean Parkway region to assist local authorities in their search for additional victims, and state and local police have expanded their search area for victims to two adjacent highways. Those data are still being analyzed.
Some Long Islanders aren't surprised killers would find the remote stretch of highway, populated by fewer than 250 year-round residents, as an attractive dumping ground.
"It makes sense," says Don Gaynor, of nearby Bay Shore, about 35 miles east of New York City. "There's very little lighting. There are no security cameras of any kind. And when you get down here at 2 or 3 o'clock in the morning, you could be the only car on the road for half an hour, so it's a very easy place to dump anything that you don't want people to know about, and your chances of getting caught are nil to none."
Ocean Parkway, built in the 1930s to accommodate sun worshippers headed to the newly opened Jones Beach, is a mostly four-lane highway that dissects the barrier island south of Long Island for more than 15 miles. Along the south side runs a network of state and town-run beaches, featuring pristine white sand and azure ocean water. The island is so narrow that authorities have fretted for years that a major hurricane could create a breach between the Atlantic Ocean and the Great South Bay.
Commuters hoping to avoid traffic jams on Long Island's primary roadways often use the parkway as a long shortcut to get to their destinations because there are rarely any snarls; more miles to drive, but quicker to get there.
The north side, where all the remains have been found, is largely a daunting thicket of tick-infested underbrush, including poison ivy and evergreens -- an uninviting area that apparently enticed several killers. The only reason anyone might stop on that side of the roadway, where parking is prohibited, would be to deal with car trouble. Detectives have scoured parking ticket records as part of their hunt for a killer.
Dr. Michael Baden, the chief forensic pathologist with the state police and host of the HBO cable TV show "Autopsy," said the killers likely chose the location because it's an area with which they're familiar and they're likely aware that it's sparsely populated, especially in the winter, when there are few beach visitors.
"It's a place the perpetrator knows about, usually near where he grew up or where he travels to or from. It's a place where it would be easy to throw a body and not be found," Baden said. "The initial issue is to go to a place where very few cars go and nobody will see you."
Ridgway, one of the most prolific killers in U.S. history, led authorities to the site of some of his victims following his arrest in 2001. Advances in DNA technology enabled authorities to link a saliva sample he gave authorities in 1987 to some of the bodies. He is serving life without parole.
Rifkin picked up many of his 18 victims while they worked as prostitutes in New York City, and he left their remains at various locations in the metropolitan area.
Rifkin, who admitted committing the murders, has said in recent prison interviews that none of the bodies found along Ocean Parkway was of one of his victims.
Baden, who travels by train from New York City to Albany on business, said he often peers out the window along the tracks that run parallel to the Hudson River.
"It's amazing how many interesting spots you find along the railroad tracks," he said. "Tremendous areas that nobody would ever see if someone were to leave a body there."
At Captree State Park, just up the road from where the remains were found, 62-year-old Carmine LiBretti, of Bayport, said the revelations unfolding since December are startling.
"I've been coming here since I was a kid, and it's pretty scary to find out that somebody's dumping bodies like that," he said. "You know, you don't know if (the killers) are from around here or from another town or another state.
"I went fishing here with my dad years ago, with my brothers. In fact I got married right out here 32 years ago. I said to my wife, 'We got married there, and now they're finding bodies.' What the hell, man?"
Ray Marshall of Hicksville added the mystery is baffling. "I can't understand how they can dump bodies and nobody ever saw them," he said. "Somebody should have seen something."