New Jersey supermarket worker fatally shoots 2 employees, self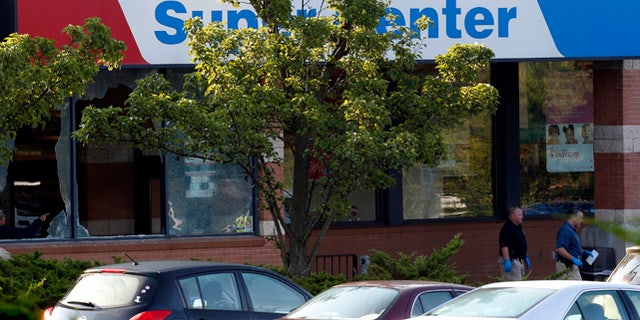 NEWYou can now listen to Fox News articles!
OLD BRIDGE, N.J. – A New Jersey supermarket employee who killed two people at the store early Friday and then fatally shot himself is a former Marine, authorities said.
The man, identified as Terence Tyler, 23, was discharged from the U.S. Marine Corps in 2010. The military says he never served overseas and would not say whether he was discharged honorably, a law enforcement official briefed on the case told The Associated Press.
While in the service, Tyler was an infantryman. His home of record was listed as Brooklyn, N.Y.
Earlier Friday, Middlesex County Prosecutor Bruce Kaplan said Tyler opened fire on employees he saw when he walked into the Pathmark store in Old Bridge, about 25 miles from Manhattan. The store's front windows were shattered by gunfire.
Kaplan identified the victims as an 18-year-old female and a 24-year-old male, both of Old Bridge.
Tyler left the store at about 3:30 a.m., when up to 14 employees were already inside, and returned shortly thereafter.
"He entered the store firing his weapon," Kaplan said. "Two of [the employees] were shot and killed. The others were able to hide and escape."
Authorities said at least 16 shots were fired and an AK-47, extra ammunition and a handgun were found at the scene. Police fired no rounds.
The motive is being investigated, but Tyler did not appear to have targeted anyone in particular, Kaplan said.
"It appears he opened fire on the employees that he observed in the store when he entered," he said.
The store and its parking lot were closed. Pathmark officials had no immediate comment.
Old Bridge is a bedroom community of about 65,000 just across the Raritan Bay from New York City's Staten Island borough.
New Jersey Transit closed its nearby park-and-ride lot for bus passengers and told riders that they could park in other park-and-ride lots or could ride a rail line.
The Associated Press contributed to this report.