New image of mystery girl found dead in Boston Harbor yields tips, but still no ID
Tips are pouring in following the release of a computer-generated image of a little girl whose identity remains a mystery after her broken body was found more than a week ago -- shoved in a trash bag -- along the rocky shore of Boston Harbor.
The heartbreaking mystery has generated massive interest in the Bay State and beyond, with millions of views logged for a Facebook page set up by the Massachusetts State Police to gather tips and information. State Police spokesman David Procopio said someone out there knows the identity of the girl, estimated to be just 4 years old and, for now, known only as "Baby Doe."
"We know that someone out there knows who this girl was."
"We know that someone out there knows who this girl was," Procopio said. "Someone in her extended family, or her neighborhood, or her church, or a pediatrician's office or a dentist's office, or a park where kids play, has to recognize her or realize that a little girl who was there once is now longer there.
"Also, we are asking landlords and building managers to think about the families in their apartment buildings -- was there a little girl there previously who was no longer there?" he said. "We want very much to speak for this little girl, to seek justice for her, but to do that we first need to know her name."
The grisly discovery was made on June 25 by a woman walking a dog on the western side of Deer Island in the town of Winthrop. On Thursday, police released the computer-generated image, produced by the National Center for Missing and Exploited Children. The image, which is not a photograph, was created using pictures of the girl.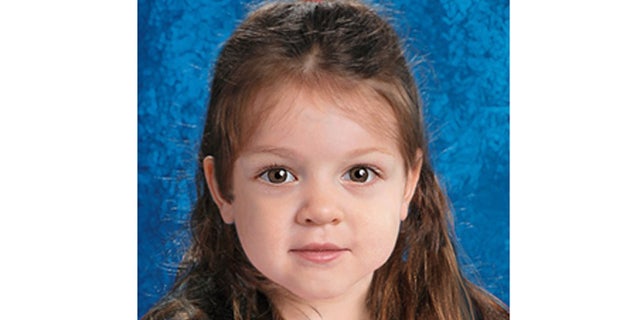 Since then, no one has come forward to report a child missing that matches the little girl's description.
Investigators say Baby Doe had brown eyes and long brown hair. The medical examiner reports she stood about 3½ feet tall and weighed little more than 30 pounds. Her ethnicity is unknown and they don't know what caused her death, though tests are ongoing. She was found with a zebra-printed blanket, wearing polka dot pants.
"We are doing well-being checks on little girls whom some of the tipsters bring to our attention, or having police in other states do the checks. We have cleared multiple possible cases this way thus far," said Procopio.
One lead that was ruled out relates to multiple suggestions from the public that "Baby Doe" could be Aliayah Lunsford, a missing West Virginia girl. Investigators report that "they are confident" the child found on the shoreline is not Aliayah.
Deer Island, which morphed into a peninsula after a hurricane in 1938, is accessible by road and investigators don't know if "Baby Doe" was placed there or washed ashore after being dumped in the water. The island is home to a wastewater treatment plant and miles of walking trails. From certain points, Boston's skyline is visible in the distance. Planes passing to and from the city airport can be seen overhead.
Anyone with any information about the girl or who has information about a missing child is urged to call the Massachusetts State Police at (508) 820-2121; the Suffolk County State Police Detective Unit, at (617) 727-8817; or Winthrop Police, at (617) 539-5806.