New billboard welcomes all to Texas in response to sign telling 'liberals' to leave state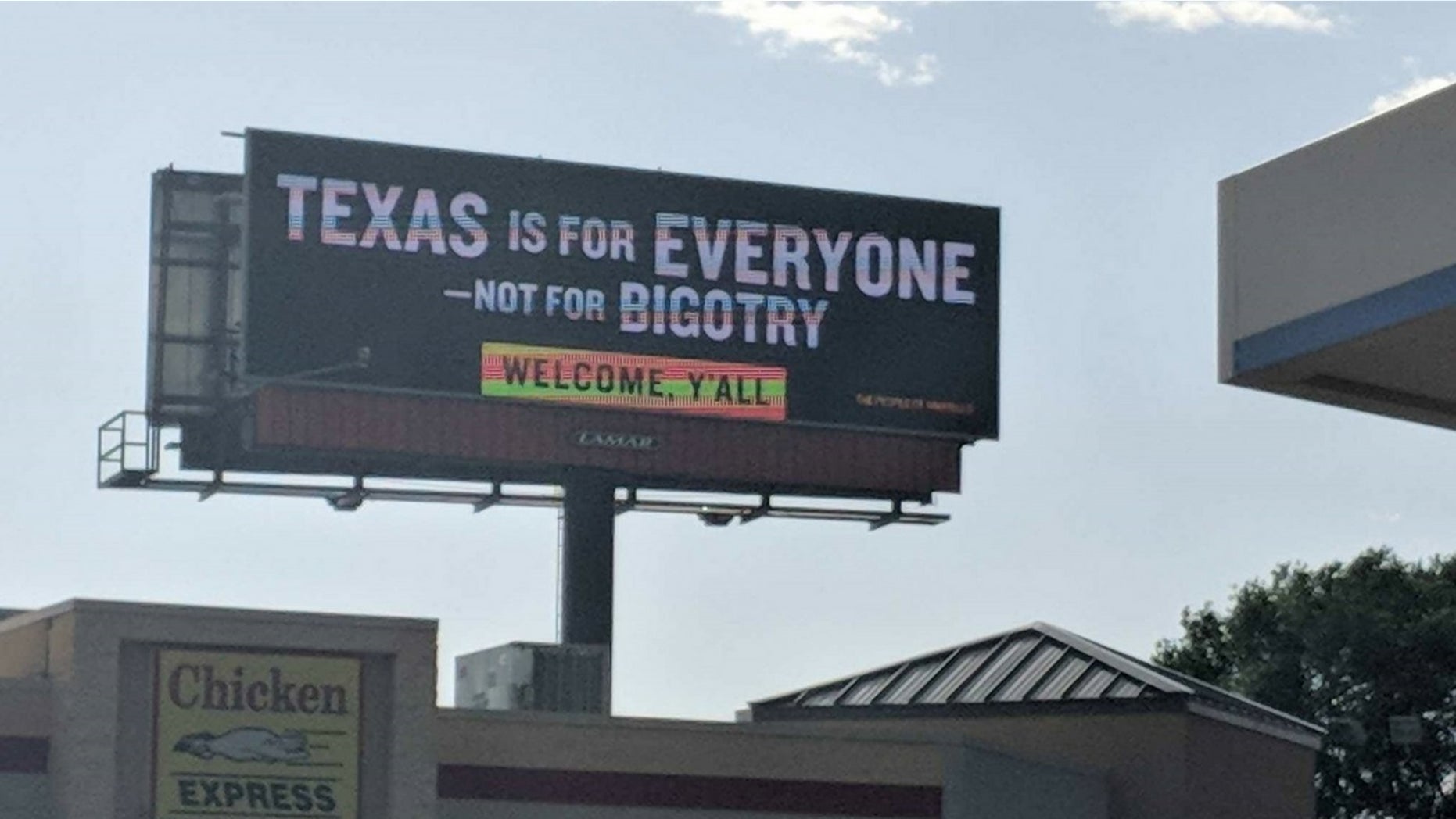 A new billboard in Texas is letting folks know that everyone is welcome in the Lone Star State, but bigotry is not.
The billboard, erected in Amarillo, appears to be in response to a similar sign that told "liberals" to leave the state.
"Texas is for everyone, not for bigotry. Welcome, y'all," the new sign in reads.
The original sign, erected along Interstate 40 before it was removed last week, read: "Liberals, Please continue on I-40 until you have left our GREAT STATE OF TEXAS."
BOY SCOUT FROM TEXAS KILLED BY FALLING TREE AT GEORGIA CAMP, OFFICIALS SAY
Roman Leal, 26, the owner of Evocation coffee shop in Amarillo, set up a GoFundMe account to help raise money for the new billboard.
"I wanted to put up a sign that represented the spirit of hospitality and welcome that I love about West Texas and the Texas Panhandle," Leal told Dallas News. "My grandparents were migrant farm workers who came to this area and fell in love with the sense of community in this area and were welcomed by the people who live here."
When the billboard went up, Leal wrote in the GoFundMe campaign that he was "super proud to be a citizen of Texas and a citizen of Amarillo."
TEXAS BILLBOARD TELLING 'LIBERALS' TO LEAVE THE STATE REMOVED, REPORT SAYS
The campaign was able to raise the $1,800 needed for the billboard. Leal wrote in the GoFundMe that he hoped to raise enough money to keep the billboard up longer than four weeks.
"Meeting the campaign goal will keep the billboard up for 4 weeks," Leal wrote. "Any contributions exceeding the goal will be used to pay for a longer duration."
As of Tuesday morning, nearly $4,000 has been raised.
Fox News' Nicole Darrah contributed to this report.