More than 80 false killer whales dead in South Florida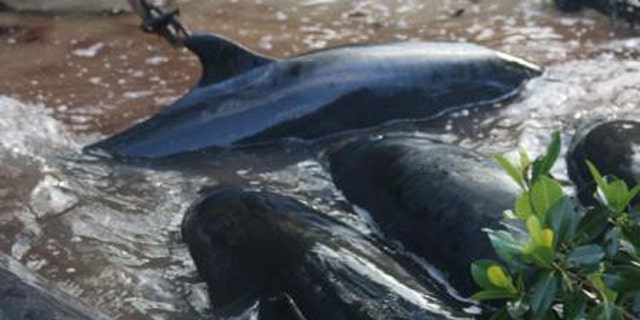 NEWYou can now listen to Fox News articles!
More than 80 false killer whales have died after becoming stranded off Everglades National Park over the weekend in the largest stranding of the species in history.
The National Oceanic and Atmospheric Administration said that reports of the stranded mammals first came in on Saturday afternoon but rescue efforts by multiple agencies throughout the weekend were unsuccessful.
NOAA and the Florida Fish and Wildlife Conservation Commission told WSVN that the whales were scattered throughout the beach, with many getting tangled in mangroves in the western side of Everglades National Park.
Officials said that 72 of the stranded false killer whales died on their own, 9 were euthanized, 13 were unaccounted for and one whale was seen alive.
As of Monday, there was no word on what sparked the mass stranding but NOAA Fisheries Southeast Marine Mammal Stranding Network coordinator Blair Mase told FL Keys News that biologists will examine the dead mammals to determine the cause.
Officials told WSVN that they will continue the search for the one whale that may still be alive.
False killer whale stranding-area around scene in Everglades closed per the National Park Service-asking for no flyovers or boats for safety pic.twitter.com/XMHhTcsFMf

— NOAA Fish Southeast (@NOAAFish_SERO) January 16, 2017
NOAA reports that there are only two other known beachings of false killers whales. Twenty beached themselves in Key West in 1986 and 40 were stranded off of Cedar Key in 1989.