MIT defends speaker's free speech, despite outcry about his past comments on Islam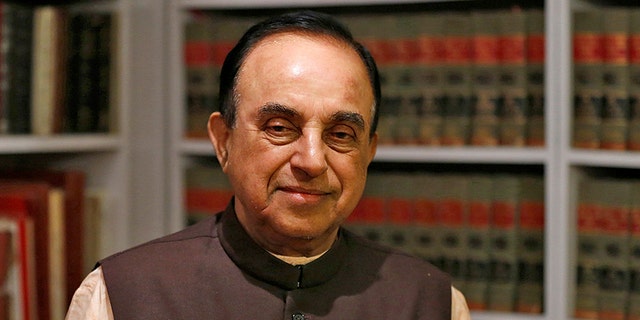 The Massachusetts Institute of Technology (MIT) defended a speaker's right to free speech at an upcoming conference after facing backlash for inviting a prominent Indian politician and economics professor who critics say has spewed "hate speech."
A change.org petition, which gathered less than 2,000 signatures and was endorsed by a handful of Indian-American and Muslim groups, called on MIT President L. Rafael Reif to revoke Subramanian Swamy's invitation to the MIT India Conference 2019 because he is an "Islamophobe and homophobe." But MIT students who are putting on the conference voted and the majority opposed rescinding the invitation.
BEN SHAPIRO TO SPEAK AT CHRISTIAN COLLEGE AFTER IT INITIALLY SPURNED HIM, YOUNG AMERICA'S FOUNDATION SAYS
Swamy, an outspoken supporter of Israel and President Trump, is a member of India's parliament. He taught at Harvard University, where he got his doctorate degree in economics and then moved to the Indian Institute of Technology in Delhi. Swamy taught economics courses in summer sessions at Harvard until 2011, after students petitioned to have him removed for a controversial article he wrote on "how to wipe out Islamic terror" following an Islamic terror attack in Mumbai. Harvard initially stood by him, citing "free speech," but eventually acquiesced, essentially firing him because of the oped.
The oped, in which he lays out what he thinks India should do to eliminate Islamic terrorism, suggests that Muslims in India should not be allowed to vote until they acknowledge that "their ancestors were Hindus."
"Muslims of India are being programmed by a slow reactive process to become radical and thus slide into suicide against Hindus," he wrote, later adding: "If the Jews can be transformed from lambs walking meekly to the gas chambers to fiery lions in just 10 years, it is not difficult for Hindus in much better circumstances (after all we are 83 percent of India), to do so in five years."
After Harvard dropped him, Swamy called the decision a "dangerous one" as it made a person teaching in Harvard accountable for what he wrote on any subject anywhere in the world.
Now he's facing similar pushback at MIT, but this time school officials stood by his side.
"This is a moment when two of our most deeply held values — freedom of expression and inclusion — are in conflict," MIT Chancellor Cynthia Barnhart and Provost Martin Schmidt wrote in a statement. "In this instance, our students have chosen to allow Dr. Swamy to speak. We support their right to do so, and we expect to maintain our community's standards of open, respectful dialogue."
The school's Muslim chaplain, Nada Miqdadi El-Alami, wrote a letter to Reif asking him to rescind the invitation, saying Swamy's "presence in the conference will make many groups on campus feel alienated and will question MIT's commitment to diversity and inclusion."
"He has openly called for the disenfranchisement of Muslims in India, and said they should be second-class citizens," Syed Ali, vice president of the Indian American Muslim Council, told Religion News Service. "It's not about free speech. It's about saving lives in India. His party's hate rhetoric has incited violence and lynchings of many innocent civilians."
Swamy has also been labeled a "homophobe" for comments he made defending Indian law, which criminalizes homosexuality, when he told Asian News International, "It is not a normal thing. These are all American habits, there's a lot of money behind it. The Americans want to open gay bars, and it'll be a cover for pedophiles and a huge rise in HIV cases. It is a danger to our national security."
CLICK HERE TO GET THE FOX NEWS APP
An assistant professor of South Asian studies at Rutgers University, Audrey Truschke, slammed MIT on Twitter, saying the private research university invited "a racist, homophobic, Muslim-hating, woman-hating fanatic."
Speaking via video, Swamy is one of two dozen speakers, as part of a conference "reflecting on what unique factors have allowed India to thrive in science, sports, art, literature, and technology despite fewer resources at its disposal."
"We aim to answer the questions about what are the ills that ail us and prevent the advancements, and how can we overcome them," the event description reads. "These questions are especially important in light of radically changing socio-economic and political space in the country."
CHRISTIAN GROUP WINS RELIGIOUS FREEDOM CASE AGAINST UNIVERSITY OF IOWA: 'RULING IS A WIN FOR BASIC FAIRNESS'
Conference organizers have said they do not endorse any speaker's views.