McSally: Kidding about Calif. wall, 'serious' about state's 'dangerous' illegal immigration policies
Arizona GOP Rep. Martha McSally made clear Saturday that she's kidding about building a border wall with California but argued that dangerous policies in the neighboring state allowing "violent, criminal" illegal immigrants to go largely unchecked is a "very serious" concern.
"The left has gone hysterical as usual, and it seem like they can't take a joke. But the issue is very serious," McSally told Fox News' "Fox & Friends" after mentioning the border wall at a White House conference on so-called "sanctuary city" policies earlier this week.
Such policies, which allow state and local law-enforcement authorities to protect illegal immigrants from federal immigration law, have been in place for decades, with California leading the way.
Earlier this month, Attorney General Jeff Sessions announced that the Trump administration is suing California, citing a series of state laws that he says are unconstitutional and violate common sense.
"I can't sit by idly while the lawful authority of federal officers are being blocked by legislative acts and politicians," Sessions said.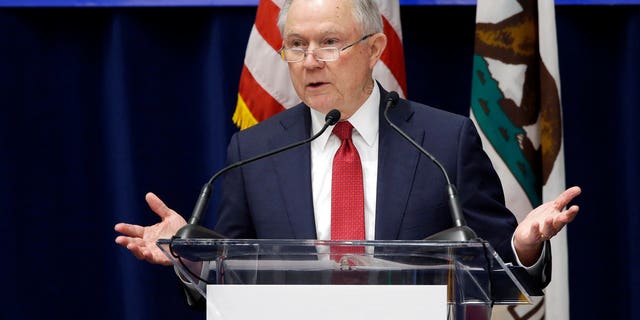 The lawsuit was filed in Sacramento and argues three state laws intentionally undermine federal immigration law -- including barring police from asking people about their immigration status or participating in federal immigration enforcement activities. Another law offers protection against workplace raids.
"These dangerous policies out of California are choosing to let violent, criminal aliens be released from jail and not contact the feds," McSally, a former Air Force fighter pilot running for Senate, said Saturday. "That's not just impacting California communities. This has the opportunity to impact safety and security across the country, not just in Arizona."
McSally, who represents a congressional district near the Mexican border, said she voted earlier this week in support of the roughly $1.3 trillion spending bill signed into law despite it giving President Trump just $1.6 billion toward a U.S.-Mexico border wall because it provided much needed money for the military and its troops.