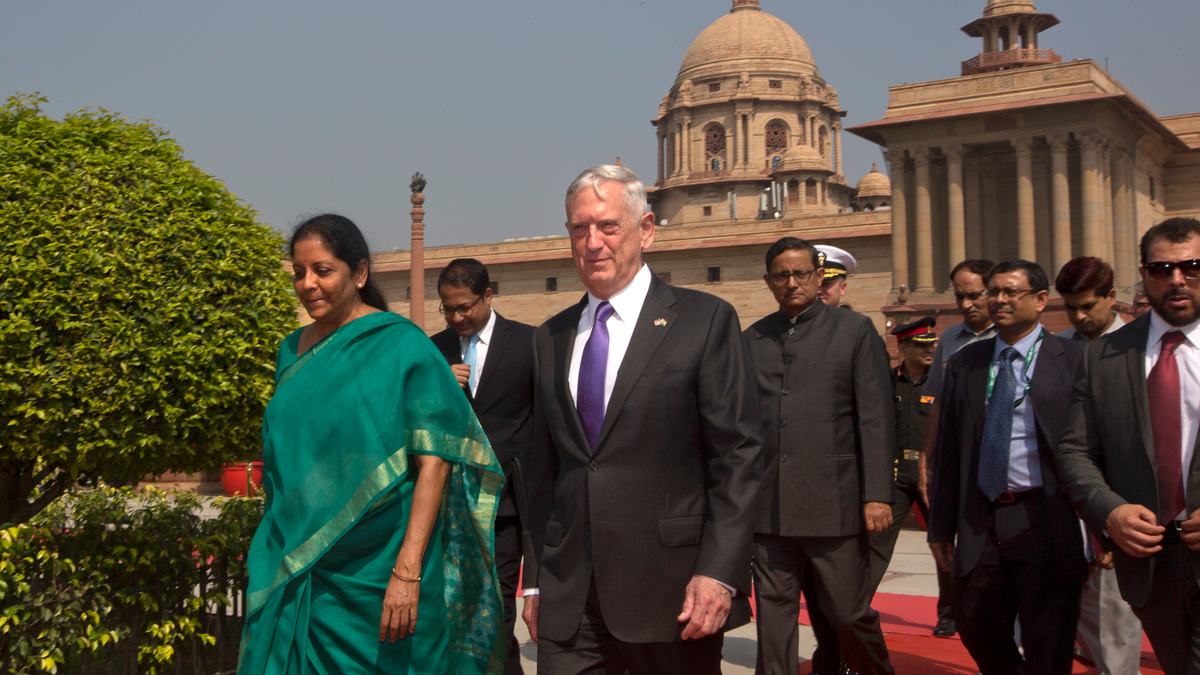 NEW DELHI – U.S. Defense Secretary Jim Mattis said Tuesday that the United States wants to resolve the standoff with North Korea diplomatically and is focused on denuclearizing Pyongyang's nuclear weapons program.
"We maintain the capability to deter North Korea's most dangerous threats, but we also will back up our diplomats in a manner to keep this as long as possible in the diplomatic realm," Mattis told reporters in New Delhi, following talks with his Indian counterpart.
"Our goal is to solve this diplomatically," he said.
Mattis' comments come amid escalating rhetoric between President Donald Trump and North Korean leader Kim Jong Un.
The Trump administration clarified Monday that it is not seeking to overthrow North Korea's government after Trump tweeted over the weekend that Kim "won't be around much longer." Pyongyang interpreted the tweet as a declaration of war.
Mattis arrived in the Indian capital late Monday, marking the first visit to the country by a Cabinet-level official from Trump's administration.
In meetings with Indian Prime Minister Narendra Modi and other officials, Mattis was expected to focus on deepening defense cooperation between the two countries and discuss how India could contribute to U.S. efforts in Afghanistan.
The talks with Indian Defense Minister Nirmala Sitharaman covered ways to enhance and complement efforts to restore security in Afghanistan as Washington steps up its own military campaign against Taliban insurgents who have gained ground.
Last month, while outlining his new strategy for Afghanistan, Trump urged India to assist security efforts in Afghanistan.
Sitharaman said India would continue its efforts to reconstruct Afghanistan's infrastructure, but she ruled out sending Indian troops to the country.
So far, New Delhi has contributed around $3 billion toward building highways, power transmission lines and dams, as well as to aid public health and education in the war-ravaged country.
New Delhi will also enhance its efforts to train Afghan soldiers in counterterrorism and help build its police forces, Sitharaman said.
The two defense ministers also discussed defense deals with India, one of the world's biggest defense equipment buyers. The talks focused on deals that involve the transfer of technology, with New Delhi pressing Washington to share technology and wanting to manufacture its own fighter jets.
Mattis said the talks covered ways to further enhance defense trade and technology collaboration between defense industries.
"We look forward to sharing some of our most advanced defense technologies through the defense technology and trade initiative," he said, add that this would improve the capabilities of both militaries.
Sitharaman said India appreciates America's "willingness to share further cutting-edge platforms which would enhance India's defense preparedness to meet current and emerging threats."
The two sides also discussed maritime security in the Indo-Pacific, amid shared concerns about an increasingly aggressive China. The United States, India and Japan annually conduct naval exercises in the Bay of Bengal to improve coordination between their navies.
___
Follow Nirmala George at www.twitter.com/NirmalaGeorge1