Man arrested with 'artfully concealed' knife inside shoe at Detroit airport, TSA says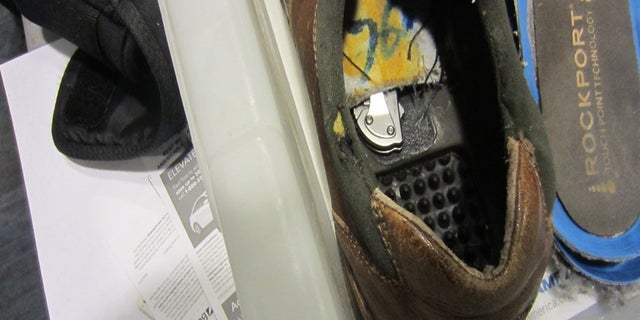 An airline passenger has been arrested in Michigan after being found with a knife concealed inside the bottom lining of one of his shoes, according to authorities.
The Transportation Security Administration said the knife was found Sunday during security screening at Detroit Metropolitan Airport in Romulus.
In an e-mail sent to FoxNews.com, the TSA said officers detected "an artfully concealed knife inside a passenger's shoe" during checkpoint screening at approximately 7:22 a.m. on Sunday.
The TSA said airport police responded, took possession of the knife and arrested the passenger. His name has not yet been released.
The TSA said the knife should have been placed in checked luggage.
The arrest comes as U.S. intelligence officials express concern about new Al Qaeda efforts to produce a bomb that would go undetected through airport security, prompting the TSA to increase security measures at airports.
There is no indication that such a bomb has been created or that there's a specific threat to the U.S.
Homeland Security Secretary Jeh Johnson recently ordered the TSA to call for extra security measures at some international airports with direct flights to the United States.
TSA does not conduct screening abroad, but has the ability to set screening criteria and processes for flights flying to the U.S. from overseas, according to a Homeland Security Department official, who was not allowed to discuss the changes publicly and spoke on condition of anonymity.
During an interview aired Sunday on NBC's "Meet The Press," Johnson declined to speculate on whether new security procedures called for overseas will be required at domestic airports in the future.
"We continue to evaluate things," he said. "The screening we have right domestically from one domestic airport to another is pretty robust, as the American traveling public knows. In this instance we felt that it was important to crank it up some at the last point of departure airports and we'll continually evaluate the situation."
TSA says approximately 1.8 million passengers and their luggage are screened every day for prohibited items, including weapons and explosives. The TSA uses imaging technology to safely screen passengers for any items which may be concealed under clothing, while Advanced Technology (AT) X-ray units screen all carry-on baggage.
FoxNews.com's Cristina Corbin and the Associated Press contributed to this report.