London terror attack: Utah man killed, wife seriously hurt in rampage
A Utah man was killed and his wife seriously injured during the terrorist attack outside London's Parliament building on Wednesday, relatives announced, saying the two were celebrating their 25th wedding anniversary.
Kurt Cochran, 54, who was injured alongside his wife, Melissa, died Thursday morning at a hospital in London, relatives said. Family said they were among the first hit by the vehicle on Westminster Bridge.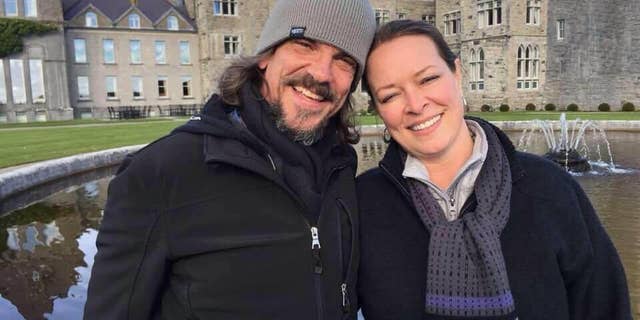 The Church of Jesus Christ of Latter-day Saints released a statement from Clint Payne, Melissa's brother.
"Our family is heartbroken to learn of the death of our brother- and son-in-law, Kurt W. Cochran, who was a victim of Wednesday's terrorist attack in London," he said. "Kurt was a good man and a loving husband to our sister and daughter, Melissa."
PHOTOS: LONDON TERROR ATTACK: THE DAY AFTER
Melissa's sister, Sara Payne-Mcfarland, wrote in a Facebook post that her sister suffered a broken leg, broken rib and head wound in the attack.
"While we are glad she survived, our hearts are broken and will never be the same after losing our dear uncle, brother-in-law, father. Kurt, you are a HERO, and we will never forget you," Payne-Mcfarland wrote.
Payne said the husband and wife were scheduled to return to the United States on Thursday. They had previously visited Germany and Austria in what they called "a dream vacation," Fox 13 reported.
The couple was in London visiting Melissa's parents, who are serving a mission for the Mormon Church.
Kurt was a good dad and likable guy who will be missed dearly by his two adult sons, said Danny Wiley, the step-father to Cochran's sons.
Wiley said Kurt loved skateboarding and playing basketball with his sons.
"It's devastating," said Wiley, who lives in West Valley City, Utah. "He was a good guy, everybody liked him. He always had a smile on his face."
ISIS CLAIMS RESPONSIBILITY FOR DEADLY RAMPAGE OUTSIDE PARLIAMENT BUILDING
"We express our gratitude to the emergency and medical personnel who have cared for them and ask for your prayers on behalf of Melissa and our family. Kurt will be greatly missed, and we ask for privacy as our family mourns and as Melissa recovers from her injuries," Payne's statement said.
A GoFundMe page has been created to raise money for Melissa.
President Trump offered his condolences to Kurt and Melissa's family and friend.
"A great American, Kurt Cochran, was killed in the London terror attack. My prayers and condolences are with his family and friends," he tweeted on Thursday.
Utah Sen. Orrin Hatch released a statement on Twitter.
Two people were killed and more than 30 others injured before the attacker fatally stabbed police officer Keith Palmer, 48, on the Parliament's grounds. Police shot the attacker, who later was pronounced dead.
Another victim killed on the bridge was identified as Aysha Frade, a 43-year-old British national whose mother is Spanish.
London police identified the attacker as 52-year-old Khalid Masood, who was born in Kent, England.
Authorities said he was known to authorities and had a range of previous convictions for assaults, including grievous bodily harm, possession of offensive weapons and public order offenses.
Police said there was no prior knowledge about his intention to mount a terrorist attack. He had not been convicted for any terrorism offenses.
The Islamic State terror network has claimed responsibility for the attack.
Fox News' Garrett Tenney and The Associated Press contributed to this report.