Little Rock 9 student dedicates commemorative bench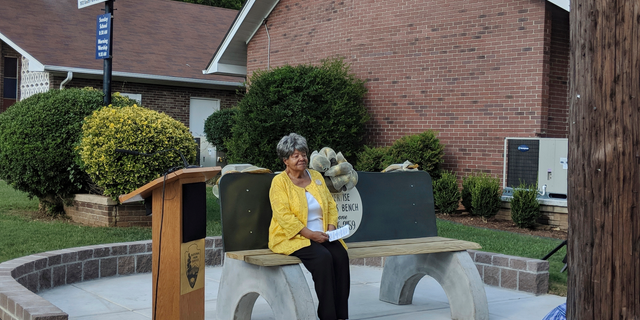 LITTLE ROCK, Ark. – Elizabeth Eckford, one of the nine black students who first integrated Little Rock's Central High School in 1957, walked to a bus stop bench Tuesday on the corner of 16th Street and Park Street as hundreds of people watched, much as she'd done exactly 61 years ago.
This time, however, the onlookers weren't furious and violent white protesters who blocked her entrance to the high school, but friends and community members who gathered to watch Eckford and current Central High students dedicate a commemorative bench as part of the school's Civil Rights Memory Project.
The 76-year-old Eckford told the crowd how lonely she'd felt that first day of school, and how local reporters had tried to shelter her from the angry protesters by forming a "human barrier." Today, she was "very, very happy" to return, she said, noting how important it is to discuss and learn from history.
"I believe that we can only have true reconciliation after there has been an honest acknowledgment of the painful but shared past," Eckford said.
Eckford also said how grateful she was to the students who led the bench construction effort. "I don't cry anymore when I'm talking about the past, and that is because of the efforts of students," she said.
High school senior Adaja Cooper, who led reconstruction efforts, said she began to consider the idea of reconstructing the bench during 60th anniversary events last year when she heard oral histories from the Little Rock Nine. She saw pictures of Eckford on the bench and wanted to find it for herself.
"I was looking for the bench all around Central, all around Little Rock. I couldn't find it so I was like, you know, we should just build it," Cooper said. She contacted architects and community partners, and after she spoke to the local rotary club, she said they donated $15,000 "on the spot."
Cooper combined her project with other students' work with the Civil Rights Memory Project, including senior Morgan Hibbard, who was working to help create an audio walking tour app of the Little Rock Nine students' journey to school that day. The final stop on the walking tour, Cooper said, is Eckford's bench, so the projects naturally combined.
The construction effort, which was in conjunction with the University of Arkansas Clinton School of Public Service and the National Park Service, among other partners, raised over $25,000, said Clinton School Dean Skip Rutherford.
After she spoke, Eckford sat on the bench, alone again. She posed for photos before she went to officially dedicate the bench with the students.
As she cut the ribbon, which was black and gold for Central High's colors, she said how she'd long avoided wearing those painful colors.
"But now I want a piece of this," Eckford said, and she cut a souvenir for herself.
___
Follow Hannah Grabenstein on Twitter at www.twitter.com/hgrabenstein .