Lawsuits over inmate pay lack merit, Republican lawmakers tell DOJ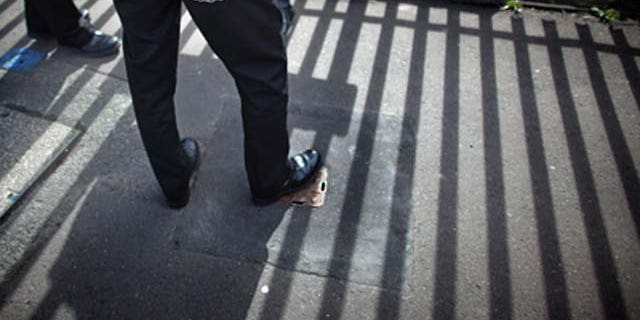 A group of Republican lawmakers is urging U.S. Attorney General Jeff Sessions to defend a private prison company that is being sued by former inmates who claim they were forced to work for a wage of $1 a day.
In a letter dated March 7, 18 GOP congressman argue that "alien detainees" are not employees of private prisons and should not be able to file lawsuits seeking payment for their work.
The letter was first reported by the Daily Beast.
"It is our expectation that you will soon get involved in this litigation and take the position that these lawsuits lack legal merit and should be dismissed," the letter reads.
Private prison companies GEO Group and CoreCivic have been the subject of at least five lawsuits over detainee pay. The companies have been accused of using voluntary work programs to bypass state labor laws.
One lawsuit against GEO for instance, filed by the state of Washington last year, sought to force the company relinquish its profits that it supposedly made by violating minimum wage laws.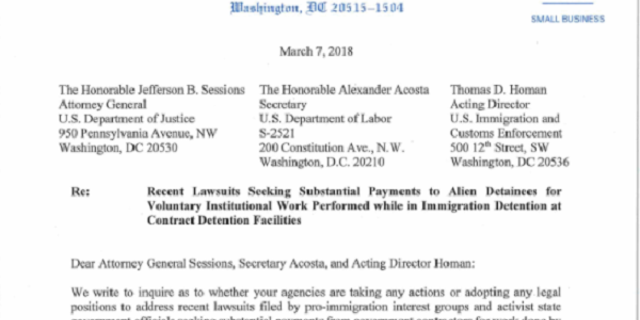 The Republican lawmakers' letter argues that paying immigrant detainees more than $1 a day would "drain the federal government of limited taxpayer resources" and that immigrant advocates have raised the overall cost of detention by discouraging cooperation with federal authorities.
As of Friday, there was no indication that Sessions' office received the letter, the Washington Post reported, citing a spokeswoman for the Department of Justice.
"Unless your agencies act to intervene in these lawsuits, immigration enforcement efforts will be thwarted," the letter reads.
Editor's Note: After this story first appeared, GEO Group contacted Fox News, noting that the Daily Beast article cited above had been updated to include a statement from the company, in which it says that wages in the Voluntary Wage Program are set by the federal government, not the company. The statement reads, in part:
"GEO has consistently, strongly refuted the allegations made in the lawsuits referenced in the [Daily Beast] story, and we intend to continue to vigorously defend our company against these baseless claims. The facts laid out above are clearly stated in our legal responses to these lawsuits and were also largely included in the Congressional letter that was the subject of the story.
"Unfortunately, the Daily Beast story did not include any of these facts and instead factually mischaracterized this matter as 'forced labor' (including in the story's headline) as if that characterization was an indisputable fact without even using the word 'alleged' or 'allegation.'"