Kansas school tells special needs athlete he can't wear varsity letter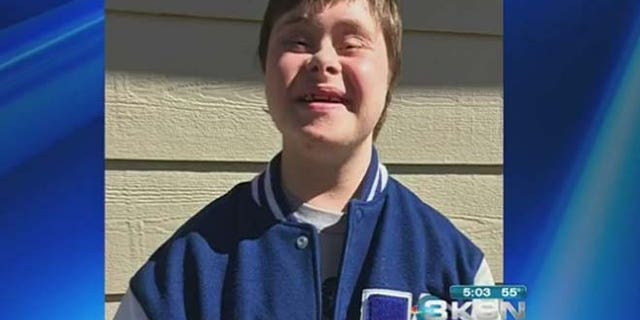 A Kansas teenager who plays on his high school's special needs basketball team has been told he can't wear a varsity letter jacket because he isn't a varsity athlete.
Wichita East High says a rule is a rule which means Michael Kelley, the 19-year old student athlete with Down syndrome and autism, has to leave his precious letter jacket at home.
"Another parent, from what I had been told, was upset that my son was wearing his jacket," Jolinda Kelley told KSN-TV Friday.
Kelley told the station her adopted son is a one-of-a-kind kid who loves to play basketball.
She bought him a varsity letter that is the same as the one worn by East High's varsity basketball team that just won the state championship.
Kelley said Michael was told he couldn't wear his letter jacket and was given a girl's sweatshirt to wear instead.
"Teachers told the parents they would prefer he not wear the letter on his jacket," East High principal Ken Thiessen told KSN.
He said the school had weighed letting special needs kids wear varsity letters.
"We have considered it, and our decision was no," the principal said. "We decided that it is not appropriate in our situation because it is not a varsity level competition."
East High's refusal to let a special needs athlete wear a varsity letter apparently is not a district-wide policy in Wichita. District school board member Lynn Rogers said he was willing to give the matter consideration.
"I would definitely be willing to look at it and be sure that kids are being treated fairly," Rogers told the station.
Kelley's mother said the policy has to be changed.
"It's not just my son," she said. "It's every student that's there on Fridays that plays their hardest and to the best of their capability regardless what that is."