It's parent vs. school over students' pledge of allegiance to teachers, district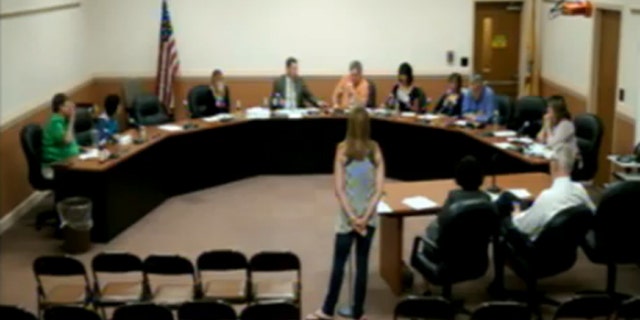 An optional pledge of allegiance to a New Jersey school and its teachers will continue after an attorney determined it's not problematic following a complaint by one parent who deemed it to be unconstitutional, FoxNews.com has learned.
For the past decade, every Monday of the school year at Asher Holmes Elementary School in Morganville, N.J., has started with students reciting a pledge honoring the Marlboro Township School District and its teachers, who "help [students] learn" all they need to "know for the future."
[pullquote]
But until last week, not a single parent had complained about the pledge:
"I pledge allegiance to Asher Holmes and the Marlboro Township School District and to the teachers who help us learn all that we need to know for the future. We promise to respect ourselves and others, to try our best and always be proud of our schools."
UPDATE: School agrees to nix pledge of allegiance to teachers, recast it as school song
The pledge was written by a fourth-grade teacher and does not replace the Pledge of Allegiance, which is recited every day and is also optional.
But Valerie Kaufman, a mother of a student at the school, told the Marlboro Township Board of Education during a June 12 meeting that she found the pledge to be unconstitutional and suggested administrators "do away" with the practice.
"I don't know about you guys, but I've never heard of a pledge of allegiance to the school, to the school district and to the teachers," Kaufman said. "I don't think it's constitutional, I don't think they should be doing it."
Superintendent David Abbott said Kaufman's complaint was the first he had received pertaining to the optional pledge.
"Frankly, I don't see anything wrong with it at all," Abbott replied. "I know it is very valued by the kids, I know it's valued by the staff, I know it's valued by most of the parents, and so if you have trouble with it, you don't have to do it and your child doesn't have to do it."
Kaufman, who declined to comment when reached early Wednesday by FoxNews.com, said her son did not want to recite the pledge every Monday, much like other students in his class.
"Well, now there is a complaint about it," Kaufman continued. "My son doesn't want to do it and a lot of the other kids don't want to do it."
Board member BonnieSue Rosenwald agreed with Kaufman, saying she found the practice to be "inappropriate" since students were likely saluting the flag while reciting the school pledge.
"Just because it was done for 10 years doesn't mean it's right and doesn't mean it should continue to be done," she said. "Not when every Monday morning you are told to stand with your hand over your heart to pledge allegiance to Asher Holmes. I don't think it's right."
Kaufman suggested the matter be put to parents at the school while Rosenwald said the school pledge should be posted to the district's website for parents to consider, prompting Abbott to remind the board member that that was not her job function.
"Your job is policy, not administration, and you are getting very deep into administration rather than doing policy," Abbott said. "I just want to caution you of where you are going here. Where is it going to stop in terms of all these schools?"
The board later agreed to have its attorney consider the pledge. Sharon Kuflik Witchel, director of special projects for the district, told FoxNews.com on Wednesday that he found no issue with the recital of the school pledge.
"His opinion was that it was not a problem," Witchel told FoxNews.com.
"For the past 10 years, Asher Holmes Elementary School students have recited a pledge to the school, not unlike schools that may ask their students sing a school song," Witchel wrote in an email. "The school pledge is recited once a week, on Monday. The United States Pledge of Allegiance is recited every day by our students. Students are not required to recite either pledge."
Not everyone is satisfied with that determination, however, including a New Jersey father whose son graduated from the school 10 years ago. Paul Schlaflin, of Morganville, said the matter has been a popular topic of conversation among neighbors and local residents.
"It's pretty apparent that the majority of the community aware of it doesn't agree with it," Schlaflin told FoxNews.com. "It's one of the most inappropriate things I've ever heard coming out of the school. It diminishes the importance of the Pledge of Allegiance … Public school systems are failing miserably at helping to produce good American citizens and this is just another piece of that poor puzzle."
And while the pledge is optional, students will feel pressured to participate since its led by teachers, according to Steve Gunn, a spokesman for the Michigan-based Education Action Group, a nonprofit watchdog organization.
"I would say it's tacky and I understand why some parents are upset," Gunn told FoxNews.com. "It's apparently recited in the same manner [as the Pledge of Allegiance] and the two can't be compared. It kind of waters down and dishonors the solemn oath that they're making to their country."