Hundreds run in charity race marred last year by bombing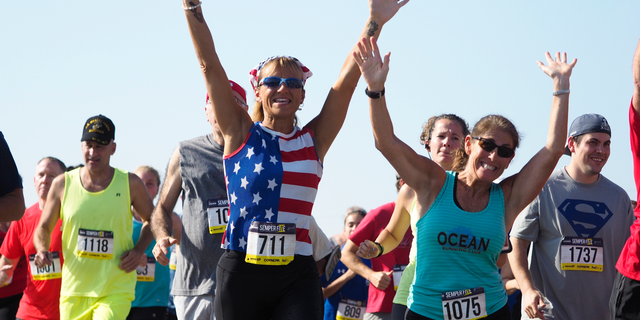 SEASIDE HEIGHTS, N.J. – Hundreds of runners came out Saturday for a Marine Corps charity race on the New Jersey shore, a race run without incident one year after pipe bomb detonated at the event site and forced its cancellation.
Security was beefed up for this year's Semper Five race, with trash cans removed along the race route in Seaside Heights and manhole covers sealed.
The race also saw a sharp increase in registrants, with nearly 2,000 runners taking part.
The registration surge had spurred organizers to move the race from Seaside Park to neighboring Seaside Heights, due to the larger boardwalk there that could accommodate the extra runners. Race officials said the increase in runners was a response to the bombing and people wanting to show support for the military.
The bomb that rocked last year's event was planted by Ahmad Khan Rahimi as the start of a two-day reign of terror in the region, authorities have said.
Several hours after that blast, another bomb exploded in a New York City neighborhood, wounding 29 people. The next night, a homeless man and his friend alerted authorities after they found a backpack full of explosives in a trash can near a train station in Elizabeth, New Jersey. Five devices were in the bag, including one that exploded while a bomb squad robot attempted to disarm it.
Rahimi, an Afghanistan-born man living in Elizabeth, was arrested the next morning after he was seriously injured in a shootout with police in Linden. He has pleaded not guilty to charges related to the bombings and is being held without bail while awaiting his trial, scheduled to start Oct. 2.
No one was injured in the Seaside Park explosion, mostly because the start of the race had been delayed because of a large number of late entrants, or by the devices found in Elizabeth. But the situation frightened many in a region where the Sept. 11 attacks still reverberate strongly.