'House of Horrors' parents plead not guilty to new charges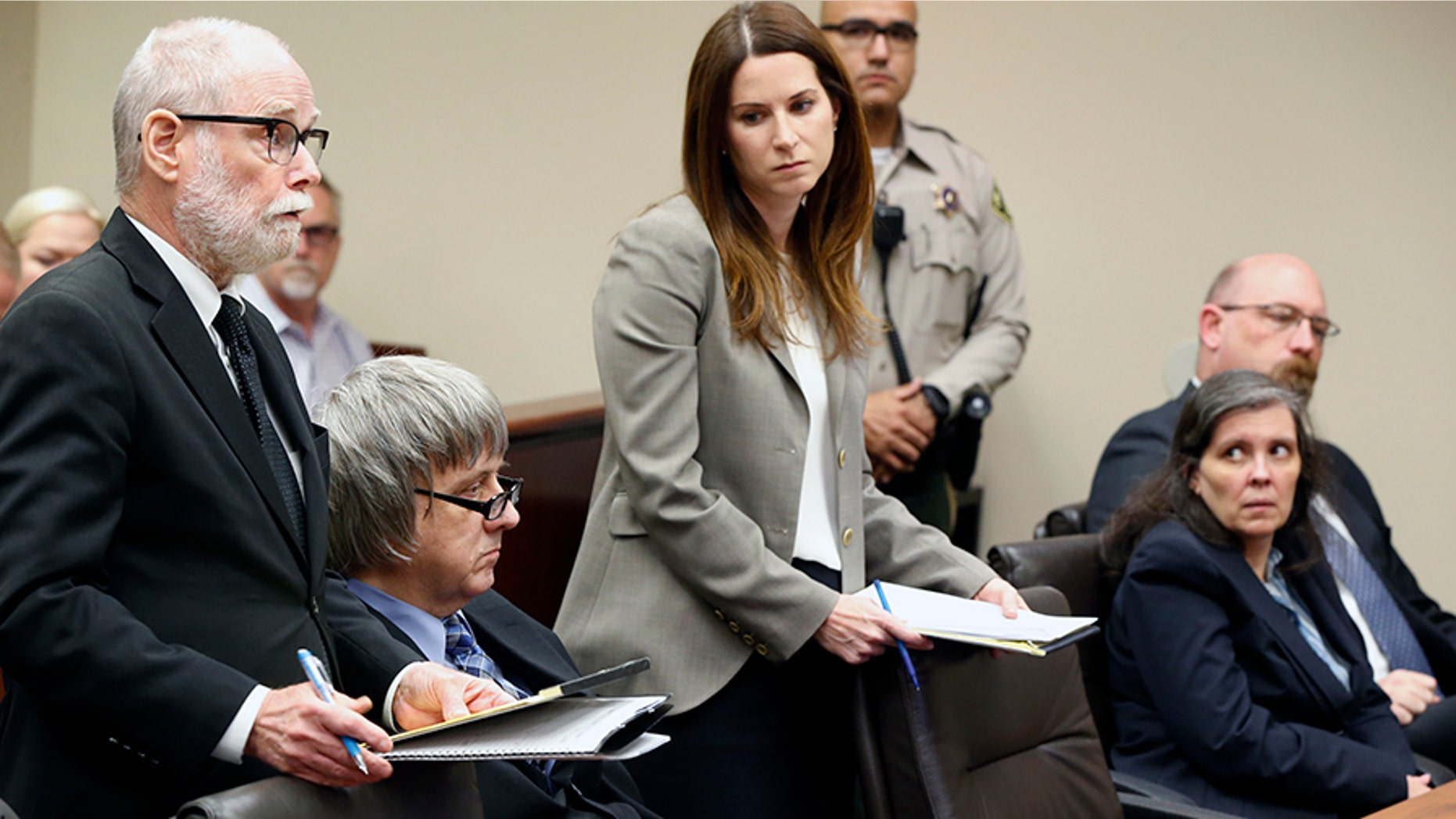 "House of Horrors" parents David and Louise Turpin appeared in court on Friday, pleading not guilty to charges of child abuse, the latest filed against the California couple.
The two have previously pleaded not guilty to a slew of other charges including torture, and are being held in prison on $12 million bail.
The mother of 13 also pleaded not guilty on Friday to a count of felony assault. The couple, who allegedly starved and shackled some of their children, did not speak much in court, aside from agreeing to appear for a preliminary hearing in May.
AMY DUGGAR WANTS TO ADOPT CALIFORNIA 'HOUSE OF HORRORS' CHILDREN
The Turpins were arrested after their 17-year-old daughter climbed out a window of the family home in Perris, Calif., and called 911 using a deactivated cellphone on Jan. 14.
The children, who range in age from 2 to 29, were found in squalid conditions and appeared to shows signs of starvation and stunted growth, authorities said, demonstrating the duration of their abuse. The couple allegedly shackled their children to furniture as punishment and forced them to live a nocturnal lifestyle, authorities said.
The offspring were immediately hospitalized following their rescue and were subsequently separated between two foster homes, CBS News reported. But they reportedly keep in touch by using Skype.
CALIFORNIA 'HOUSE OF HORRORS' MOTHER WAS SEXUALLY ABUSED GROWING UP, ALONG WITH HER SIBLINGS, SISTER SAYS
Attorneys representing the adult siblings told the outlet that seven of them are currently living at Corona Medical Center and, for the first time in their lives, can make their own decisions and "have a voice."
"That in itself is a new experience for them, understanding that they do have rights and they do have a voice," attorney Jack Osborn told the outlet. "That's a big deal, deciding what they're going to read, deciding what they're going to wear, these are all things that are decisions they make every day that are new and empowering."
Osborn went on to talk about "what special individuals" the kids are and how "they may have an opportunity" to pursue life the way they want to.
The Associated Press contributed to this report.