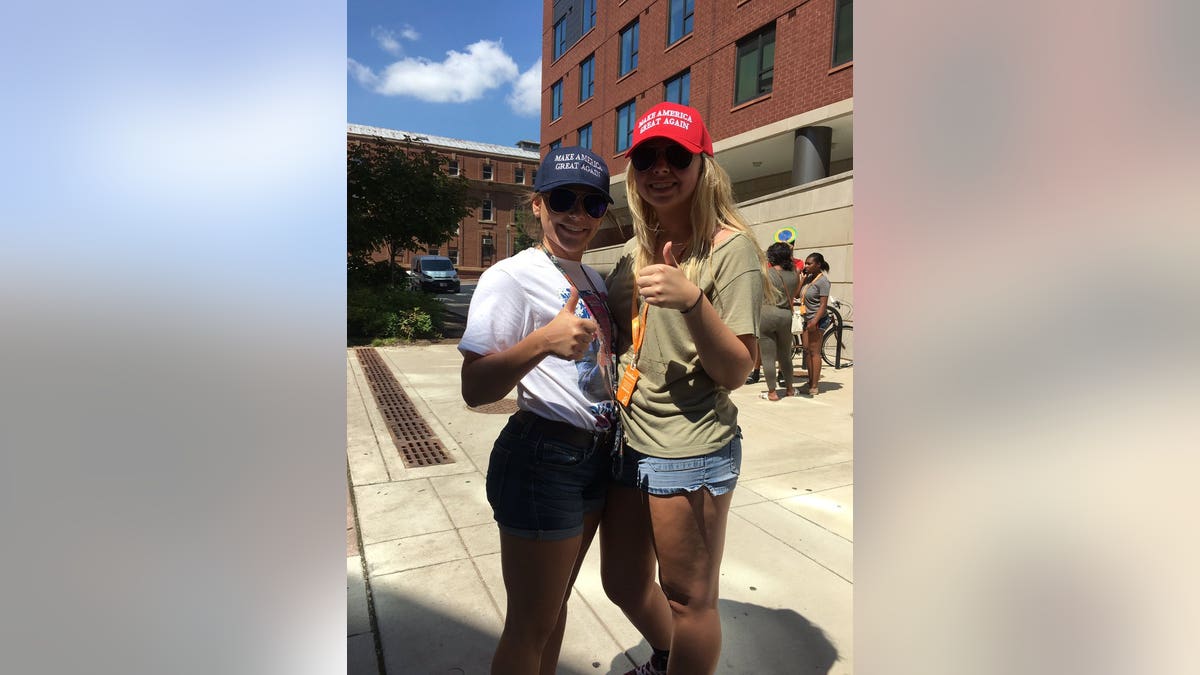 A Pennsylvania high school student who visited the nation's capital last week says she was harassed for wearing "Make America Great Again" attire that showed her support for President Trump.
Allie Vandee, a student from Union City, Pennsylvania, was in Washington, D.C. on Saturday when she and some high schoolers traveling with her decided to visit Howard University, a historically black college, for lunch.
Vandee took to Twitter to describe her visit to HU. She said upon entering the cafeteria, a man shouted an expletive directed at her. The group of students hadn't made it fully inside the cafeteria when someone "made physical contact" with her friend, Sarah Applequist, by grabbing her "MAGA" hat and removing it from her head.
FEMALE STUDENT: THE LEFT MADE ME A TRUMP SUPPORTER
Vandee said one of her chaperones retrieved the hat, only for them to be "harassed continuously" by those in the cafeteria. She said that "students took videos and pictures of us saying WE were being 'disrespectful,' and that 'us being Caucasian, we should have known better.'"
Vandee told Fox News via Twitter that she was on Howard's campus only for about 15 to 20 minutes, but during that time "countless students took videos, pictures, and made mocking comments towards my friend and I." She clarified that she claims she was harassed by people of "all races."
One of the students who was also on the school trip with Vandee apparently told her to remove her hat and called her racist.
Trip supervisors eventually decided to take the students elsewhere for lunch.
HUCKABEE: TRUMP SUPPORTERS BEING SUBJECTED TO 'TERRORISM' FOR THEIR VOTE
Vandee said she's never been harassed for wearing Trump-supporting clothing before.
"People have joked with me about it and even questioned me... but I have never received the amount of harassment that I had to deal with a HU," Vandee said.
Howard University responded to the incident in a series of tweets by referring to the campus as an "institution where freedom of thought, choice, and expression are ever-present" and "Our campus is a space for educational engagement to occur between both those who do and do not share our values."
However, a separate Twitter handle for the school's dining services tweeted in response to a student: "We will take any action necessary to ensure that HU students feel safe& comfortable in our dining spaces. This group is no longer on campus."
Vandee said the dining hall's response shows school officials were "uninformed."
"I understand with incidents in Charlottesville where HU is trying their best to be as precautions (sp) as possible to keep their students safe from people who purposely show up on campus to enrage the student body," Vandee said. "However, mine and Sarah's case was completely different. We were both innocent 16 year old Trump fans who HAD to eat lunch on campus. Ultimately I feel like the HU twitter page owners were very uninformed."
LARRY ALEX TAUNTON: IF AMERICA ISN'T GREAT, WHO IS?
Regardless, Vandee said the harassment won't deter her from proudly wearing her Trump gear.
"I will always support our President when and where I please. I will feel safe wearing it because it never phased me before so I will not let it phase me now!"