Group of Chicagoans turning high crime street corners into 'Healing Corners'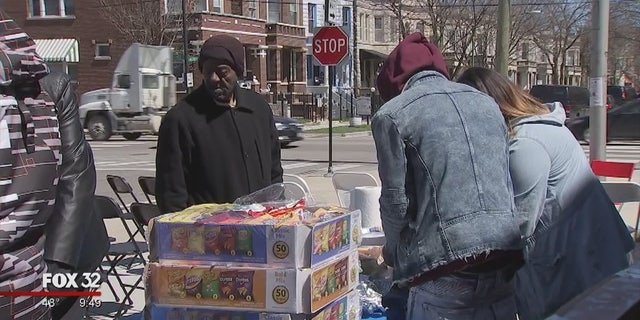 NEWYou can now listen to Fox News articles!
Street corners in Chicago can become high crime areas: drug deals, shootings, and some communities see it all too often.
But one group wants to turn them all into "Healing Corners."
It starts with free food, plus books, conversation and lots of hugs to transform a regular corner into a Healing Corner.
"We're setting the example... like this is how you treat your community and this is what a community is," said Arielle Maldonado, The Healing Corner founder.
Maldonado and a friend started "The Healing Corner" a year and a half ago. A shooting right next to a prayer vigil convinced them they needed to find a new tactic for fighting Chicago's violence.
ARREST MADE IN SHOOTING DEATH OF CHICAGO JUDGE
The group recently expanded into West Humboldt Park after starting in Garfield Park and Austin. They return again and again to the same west side corners, bringing resources and building relationships.
"You can give someone a flyer for a job fair, but if they don't have the confidence or the bus fare or the proper clothes to go to that interview or job fair, they're not going to go," Maldonado said.
They work on streets all too familiar with violence. Latonya Brown joins them outside Hefferan Elementary, showing the hole in her sweatshirt recently left by a bullet.
"I seen them shooting before but to actually have it happen to you...it ain't right," she said.
Their main goal is to connect with the young boys and men who hang out at each corner. That's where Antonio Brown comes in.
As Brown puts it, he used to live the "fast life" selling drugs. Then, a shooting took his 7-year-old son.
Now, Brown tries to show the gangbangers another path.
"It's like people following the wrong foot steps, so I try to be a leader, try to make a change the best way I can," Brown said.