FOX NEWS FIRST: 'Trump effect' felt in Tuesday's primaries; Trump-Omarosa feud heading to court?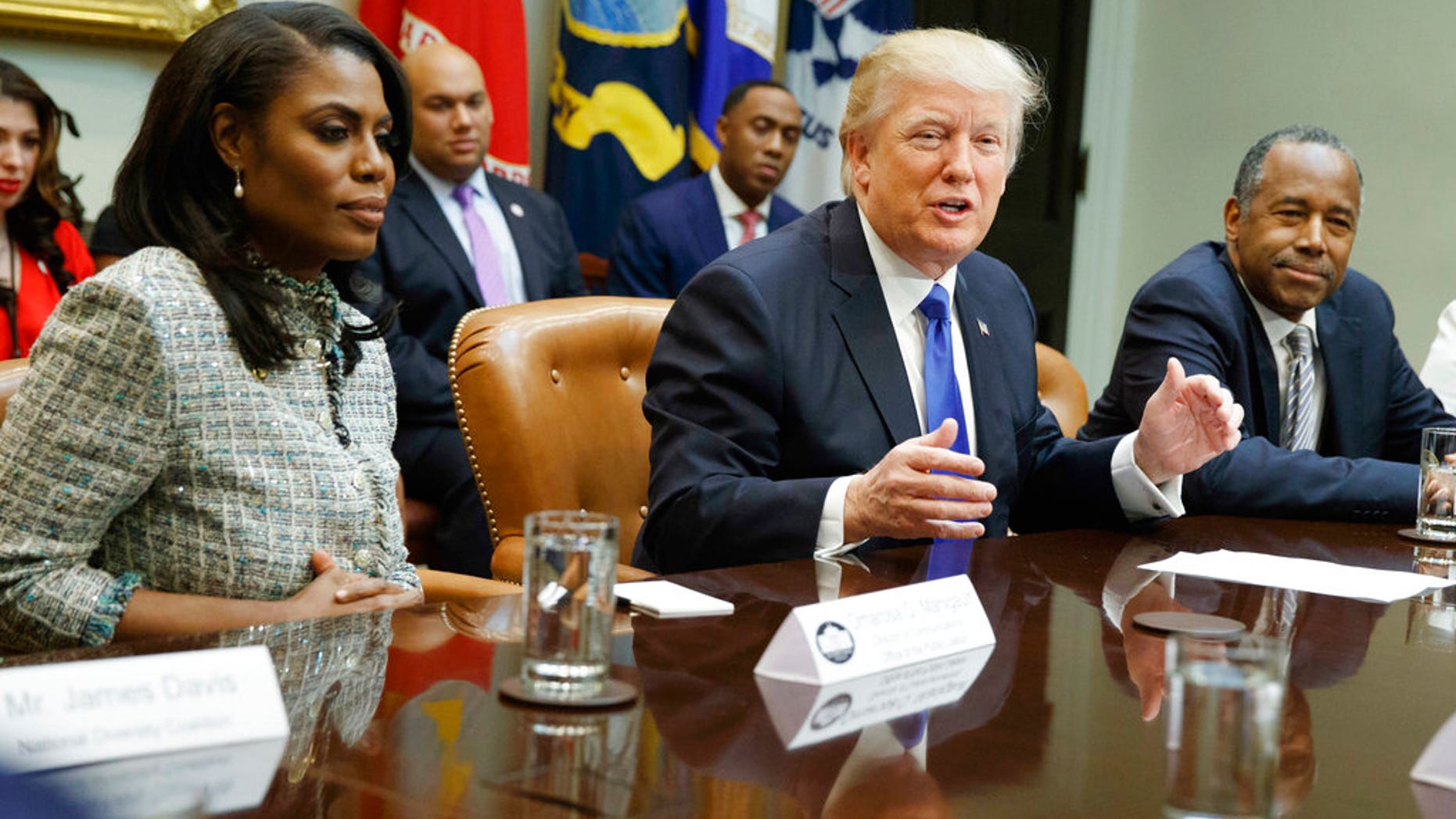 Welcome to FOX News First. Not signed up yet? Click here.
Developing now, Wednesday, August 15, 2018
Former Gov. Tim Pawlenty, who called Donald Trump 'unfit' to be president, lost in the Minnesota's GOP gubernatorial primary Tuesday, derailing his political comeback attempt; Rep. Keith Ellison won the state's Democratic primary for attorney general, despite allegations of domestic abuse
Hundreds of Roman Catholic priests in Pennsylvania molested more than 1,000 children since the 1940s -- and senior church officials covered it up, a grand jury report said Tuesday
Omarosa vowed she will 'not be silenced' as the Trump campaign seeks legal action against her
Closing arguments are expected Wednesday in the fraud trial of ex-Trump campaign manager Paul Manafort as the defense rested its case without calling any witnesses
Turkey has announced it is increasing tariffs on imported U.S. products, further escalating a growing trade war and its own economic crisis
THE LEAD STORY - THE 'TRUMP EFFECT': Tim Pawlenty -- who briefly ran for president in 2012 and had derided President Trump as "unhinged" -- was denied in his effort to regain Minnesota's governorship, replacing outgoing Democratic Gov. Mark Dayton ... County Commissioner Jeff Johnson won Tuesday's GOP primary despite Pawlenty's enormous fundraising advantage and name recognition. Johnson also won despite his own history as the party's losing candidate for governor four years ago.
Meanwhile, Democratic Rep. Keith Ellison scored a victory in the Minnesota primary race for state attorney general days after domestic abuse accusations against him surfaced. Ellison, who serves as the deputy chairman of the Democratic National Committee and is the first Muslim elected to Congress, was accused over the weekend of emotional and physical abuse by an ex-girlfriend. Addressing the abuse allegations in his victory speech, Ellison said: "We had a very unexpected event at the end of this campaign that happened. I want to assure you that it is not true."
In all, voters in four states headed to the polls Tuesday to select nominees for critical gubernatorial, House, and Senate races in November, and several of the day's contests were broadly seen as an early indication of voters' views on Trump and the Republican Party. Businessman and political newcomer Bob Stefanowski won the Republican primary for Connecticut governor, defeating four fellow GOP contenders and setting the stage for a pivotal battle with Ned Lamont in November. Connecticut is ground zero for Republican efforts to continue their gains in progressive New England. Even though Connecticut voted for Hillary Clinton by double digits in 2016, the state's governor, Dan Malloy, is deeply unpopular, with critics citing high taxes and an ongoing budget crisis. Malloy declined to seek a third term.
In Wisconsin, Democrats making yet another effort to unseat Republican Scott Walker have nominated state schools chief Tony Evers. And in Vermont, Christine Hallquist made history Tuesday night as the first openly transgender nominee for a governorship from a major party in the nation's history, beating back her Democratic challengers in the state's primary.
PENNSYLVANIA'S 'PREDATOR' PRIESTS: Hundreds of priests in Pennsylvania were said to have molested more than 1,000 children — and possibly many more — since the 1940s, and senior church officials, including a man who is now the archbishop of Washington, D.C., allegedly covered up the abuse, according to a grand jury report released Tuesday ... The "real number" of abused children might be in the thousands since some secret church records were lost, and victims were afraid to come forward, the grand jury said. The report accused Cardinal Donald Wuerl, who leads the Washington archdiocese, of helping to protect abusive priests when he was Pittsburgh's bishop.
The report put the number of abusive clergy at more than 300. In nearly all of the cases, the statute of limitations has run out, meaning that criminal charges cannot be filed. More than 100 of the priests are dead, and many others are retired or have been dismissed from the priesthood or put on leave.
OMAROSA VS. TRUMP IN COURT? - Omarosa Manigault Newman has promised she "will not be silenced" by President Trump as their war of words over her new book prepares to potentially evolve into a legal battle ... In an interview with the Associated Press, Manigault Newman, who is promoting her new book about her time in the Trump administration, said she believes the president's campaign organization is trying to keep her from telling her story. She commented hours after the Trump campaign  filed a formal complaint saying she has breached a confidentiality agreement signed in 2016 with her newly released book and promotional tour. 
MANAFORT TRIAL WRAPPING UP? -  Closing arguments in the tax evasion and fraud trial of Paul Manafort are set for Wednesday as defense lawyers rested their case without calling the former Trump campaign manager to the stand ...  Addressing the court for the first time during his trial on Tuesday, Manafort stood up and told Judge T.S. Ellis III that he did not want to testify. After two weeks of testimony from prosecution witnesses, it had been unclear whether the defense would put forward witnesses or evidence of their own. Special Counsel Robert Mueller's team rested its case Monday afternoon. Ellis told both sides to limit closing arguments to one and a half hours each.
TURKEY TARIFFS FIGHT: Turkey announced Wednesday it is increasing tariffs on imports of certain U.S. products, escalating a feud with the United States that has helped trigger a currency crisis ... In a decision announced in the Official Gazette, the capital of Ankara said it was imposing extra tariffs on imports of products including rice, vehicles, alcohol, coal and cosmetics. Turkey's Vice President Fuat Oktay said on Twitter that the tariffs on certain products were increased "within the framework of the principle of reciprocity in retaliation for the conscious economic attacks by the United States."
The Turkish lira has dropped to record lows in recent weeks, having fallen some 42 percent so far this year. The currency has now stabilized at around 6.50 lira against the dollar. Turkey has accused the United States of waging an "economic war" as part of a plot to harm the country. Washington has imposed financial sanctions on two Turkish ministers and doubled steel and aluminum tariffs on Turkey, as President Trump tries to secure the release Andrew Brunson, an American pastor being tried in Turkey on espionage and terrorism-related charges.
AS SEEN ON FOX NEWS
COURT TV: "The plea deal that [Mueller] gave to Gates is shameful. Basically they charged him with over 100 years of felony charges, and then the next day they plead him out to two minor charges." – Andrew McCarthy, former federal prosecutor on "Outnumbered," predicting the defense's closing argument in Paul Manafort's trial will hone in on one person: his former partner and prosecution star witness Rick Gates. WATCH
THE OMAROSA BAIT: "The president has responded, I think, in a very egregious and distasteful way that does him no credit at all." – Geraldo Rivera, on "The Story with Martha MacCallum," sizing up the Omarosa-President Trump feud and arguing that Trump should have fired the former reality star from his administration long before her eventual departure. WATCH
TRENDING
Suspect in London car ramming ID'd as British citizen from Sudan: reports.
FBI warns of impending ATM hack.
Face transplant gives woman 'second chance' three years after suicide attempt.
PHOTO: Sons of legendary Beatles post selfie, show striking resemblance to fathers.
MEDIA MADNESS
Twitter suspends Alex Jones from key functions of account.
Matt Lauer agrees to pay Annette Roque up to $20M in divorce.
ESPN ripped when anti-Trumper Keith Olbermann calls Mets-Yankees game.
THE SWAMP
Senate returning to Washington after brief August recess
Kavanaugh getting confirmation help from Senate 'sherpa' Jon Kyl.
Ocasio-Cortez claims have fact-checkers working overtime.
ACROSS THE NATION
Mollie Tibbetts reward jumps to nearly $400,000 amid ongoing search.
Woman arrested at 'extremist Muslim' New Mexico compound moved to federal custody, sheriff says.
Seven members of Washington state family among eight killed in Oregon crash
Jordanian immigrant sentenced to death for Texas 'honor killings' of son-in-law, daughter's friend.
Toxic red tide butchers Florida tourism and wildlife.
MINDING YOUR BUSINESS
ATM attack is a coordinated effort: Former assistant FBI director.
Tesla chief Elon Musk imploding?
Young entrepreneurs ditching Silicon Valley for these U.S. cities.
Americans will pay for 2008 financial crisis with 'lifetime income loss.'
Boston-area mayor boycotts Sam Adams beer after founder praises Trump.
Boxing champ Floyd Mayweather enters fitness ring.
FOX NEWS OPINION
Former FBI official: Firing Strzok was justified – he, Comey and McCabe disgraced the FBI.
Christian Whiton: If North Korea won't denuclearize, here's what the U.S. should do.
John Stossel: Social Security is going broke.
HOLLYWOOD SQUARED
Ailing Aretha Franklin visited by famous friends Stevie Wonder, Jessie Jackson.
'Fixer Upper' star Joanna Gaines tells Instagram followers 'you are made ready' in uplifting post.
Lisa Marie Presley still asks for Elvis' help 41 years after her father's death.
DID YOU HEAR ABOUT THIS?
$5 million for a nickel? Extremely rare Liberty Head nickel set for auction.
Texas man reels in 12-foot tiger shark after 'intense fight.'
Foul-mouthed parrot gives firefighters explicit greeting during rescue.
STAY TUNED
On Facebook:
Check out 'FOX News Update,' our new Facebook-exclusive news program!
On FOX News: 
FOX & Friends, 6 a.m. ET: A breakdown of Tuesday's primary results and their impact on November's midterms. Rep. Marsha Blackburn hits back at the Democratic congressman who wants her to "jump off a bridge." HGTV host Chip Wade shares home maintenance projects to save time and money.
Your World with Neil Cavuto, 4 p.m. ET: Former U.S. Attorney General Alberto Gonzales.
Tucker Carlson Tonight, 8 p.m. ET: Special guests include: Lou Dobbs.
On FOX Business:
Mornings with Maria, 6 a.m. ET: Mitch Lowe, MoviePass CEO; Haley Barbour, former RNC chair and former Mississippi governor; Lanhee Chen, former policy director for Mitt Romney; Michelle Krebs, Autotrader executive analyst; Rep. David Kustoff.
Varney & Co., 9 a.m. ET: Sen. Tim Scott; Rep. Todd Rokita.
Cavuto: Coast to Coast, Noon ET: Robert Charles, former assistant secretary of state under President George W. Bush; Karl Rove, former senior adviser to President George W. Bush.
The Intelligence Report, 2 p.m. ET: Rep. Andy Biggs; Jed Babbin, former deputy undersecretary of defense under President George H.W. Bush.
On FOX News Radio:
The FOX News Rundown podcast: On Thursday, the Boston Globe is expected to lead newspapers nationwide in denounce President Donald Trump for his remarks towards some media organization and referring to the press as "the enemy of the people." Guy Benson, co-host of "Benson & Harf," weighs in. This year marks the 41st anniversary of Elvis Presley's death.  FOX News' Tonya J. Powers traveled to Memphis, along with thousands of other fans, to celebrate the life and death of "The King." Plus, commentary by FOX News medical correspondent, Dr. Marc Siegel.
Want the FOX News Rundown sent straight to your mobile device? Subscribe through Apple Podcasts, Google Play, and Stitcher.
The Brian Kilmeade Show, 9 a.m. ET: Special guests include: Pastor Darrell Scott on Omarosa vs. Trump; Ari Fleischer; Charles Hurt; Gregg Jarrett; and Martha MacCallum.
#OnThisDay
1969: The Woodstock Music and Art Fair opens in upstate New York.
1965: The Beatles play to a crowd of more than 55,000 at New York's Shea Stadium.
1945: In a pre-recorded radio address, Japan's Emperor Hirohito announces that his country has accepted terms of surrender for ending World War II.
1914: Panama Canal officially opens as the SS Ancon crosses the just-completed waterway between the Pacific and Atlantic oceans.
FOX News First is compiled by FOX News' Bryan Robinson. Thank you for joining us! Enjoy your day! We'll see you in your inbox first thing Thursday morning.