Former cop sentenced after reportedly lying about receiving Purple Heart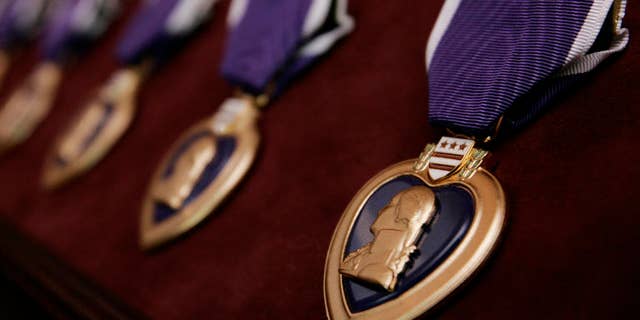 A former Georgia police officer, convicted for falsely claiming he was awarded a Purple Heart medal, avoided jail time at his sentencing hearing on Tuesday, WSB-TV Atlanta reported.
Shane Ladner won't serve any jail time but was sentenced to 10 years' probation and must complete 600 hours of community service.
Ladner had previously claimed he was awarded the medal after getting injured in Panama in 1989. But his attorneys re-word the story, saying he'd received the medal after being wounded by shrapnel during a classified drug action in Honduras in 1991, according to the Associated Press.
Ladner said he woke up in the hospital following his injuries with the Purple Heart pinned to his pillow, WSB-TV Atlanta reported.
US ARMY CHIEF CALLS FOR EU MILITARY TRANSPORT, BORDER RULES
But during the trial, former military officers of Ladner's testified against him, saying he was never awarded a Purple Heart.
Ladner also claimed the medal was lost on its way back from Central America. And his attorney said that the Department of Veteran Affairs had verified the Purple Heart award, but the attorney couldn't find the citation proving so.
An investigation into Ladner's military history was opened by the Cherokee County sheriff's office in 2013 after he and his wife were hurt in an accident at a parade honoring wounded veterans in Midland, Texas, Fox 5 reported. A train reportedly crashed into a parade float in the incident, leaving four people dead.
Prosecutors said many other veterans reportedly encouraged them to move forward with the case, saying the claim took away the significance of the award from veterans who actually earned the medal.
Ladner was found guilty in May of six counts of making a false statement related to his use of the honor to get free license plates, five counts for lying to the county tax commissioner's office and one count for lying to investigators.
He could have been sentenced to up to five years in jail.