Florida deputy, corrections officer responding to Hurricane Irma killed in head-on crash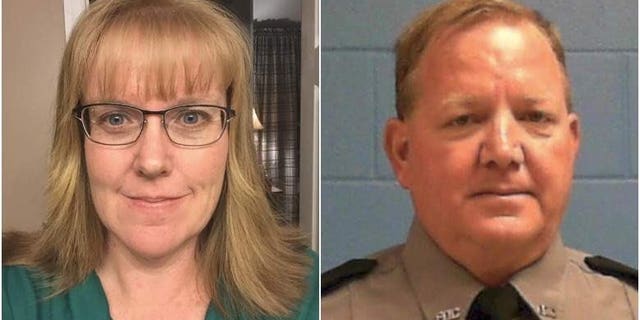 NEWYou can now listen to Fox News articles!
A Florida deputy who was helping at a Hurricane Irma evacuation center and a corrections officer heading to start his shift were killed in a head-on crash Sunday morning.
Hardee County Deputy Julie Bridges died during the crash in southeast Tampa, WFLA reported. The Florida Department of Corrections said Sgt. Joseph Ossman, who was heading to start his shift at the Hardee Correctional Institution, also died.
"We are heartbroken by this loss, and our thoughts and prayers are with his family and fellow officers at this time," Corrections Sec. Julie Jones said in a statement to the Miami Herald.
TRUMP HUDDLES WITH CABINET OVER IRMA; PENCE VOWS 'WE'LL BE THERE'
Bridges was a 13-year veteran and was heading home to pick up more supplies for the shelter when the incident happened.
"Two officers killed in Hurricane Irma evacuation zone crash," the Palm Beach County Sheriff's Office tweeted. "They were both on duty. Let's take a moment to recognize these heroes #IRMA."
The Florida Highway Patrol confirmed the deadly crash on Sunday, but did not clarify if the heavy rain and gusty winds from Hurricane Irma played a role in the crash. An investigation is being conducted.
Sen. Marco Rubio, R-Fla., tweeted Saturday afternoon that he was "saddened" by the loss of both officers, adding, "We honor those working 24/7 to keep us safe."
A deputy in Weston also shot a suspected burglar about 3 a.m. Saturday. Another teenager at the scene was arrested.
The teenager who was shot was rushed to the hospital with non-life-threatening injuries.
The hurricane made landfall in the Florida Keys as a Category 4 storm Sunday morning and headed up the state's southwest coast, dumping at least 12 inches of rain.
Power was knocked out for about 3.6 million customers, affecting more than 7.2 million people in Florida, according to TC Palm.
As Irma heads for Georgia and other Deep South states on Monday, the Nationaol Hurricane Center downgraded it to a tropical storm with maximum sustained winds of up to 65 mph.
The Associated Press contributed to this report.