FBI to Anti-Military Shooter: Give Us a Call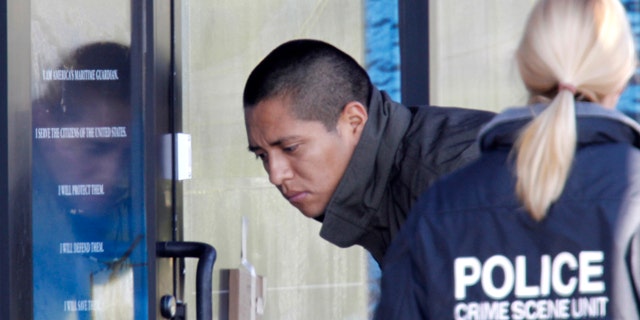 NEWYou can now listen to Fox News articles!
ARLINGTON, Va. -- FBI investigators have a simple message for the shooter who has hit the Pentagon, a Marine museum and two military recruiting stations in the Washington area: Call us.
Authorities want to talk to the person they believe may be an ex-Marine who has a gripe with the corps. The museum near the Marine Corps Base in Quantico was struck twice and one of the recruiting stations hit was a Marine outfit.
Unlike the 2002 D.C.-area snipers, this shooter doesn't appear to want to hurt anyone, using a high-powered rifle to fire at the buildings only at night, when no one is around.
The shooter "is trying to express some unhappiness, presumably with the military, but has stopped short of harming anyone, and I draw some positive analysis out of that," said Gary Noesner, a former chief of the FBI's crisis negotiation unit. "Hopefully, that will remain the case."
The FBI often publicly asks suspects to give themselves up, Noesner said. The agency made similar appeals to the D.C.-area snipers John Allen Muhammad and Lee Boyd Malvo, who terrorized the Washington, D.C., area for three weeks and killed 10 people in October 2002.
After they were caught, investigators revealed the snipers had made a number of hot line calls that were mishandled or misunderstood.
The first shooting was discovered Oct. 17 at National Museum of the Marine Corps in Triangle, about 30 miles south of Washington. Days later, five to seven shots were fired at the Pentagon. Then, the shooter hit a Marine Corps recruiting station in Chantilly before again firing on the Marine Corps museum.
After that shooting, authorities held a news conference suggesting the shooter may have had a beef with the Marine Corps.
On Tuesday, bullet holes were discovered at a Coast Guard recruiting station near a sprawling outlet mall in Woodbridge. Although the most recent shooting targeted the Coast Guard, FBI spokeswoman Lindsay Godwin said investigators would not make any further statement. The FBI has not elaborated on its profile of the suspect, and authorities have not said whether surveillance video is part of the investigation.
The same gun was used in all five shootings, the FBI said, and the buildings are within 40 miles of each other.
During a news conference last week, John Perren, acting assistant director for the FBI's Washington field office, said investigators believe the person may be dealing with a traumatic event such as loss of a job or divorce, and investigators assume the person was part of the Marine Corps at some point.
"We'd like to know what this grievance is and what we can do to try to help solve it," Perren said.
The shootings prompted additional security for the Marine Corps Marathon last weekend, though they haven't made an overwhelming impression on Washington-area residents, who say they've been watchful since 9/11, which included a plane that struck the Pentagon.
"You really have to be very alert and be aware of anything you see that looks suspicious," said Chris Maximo, 50, of Rosslyn, which is just a few miles from the Pentagon.
Residents haven't been talking about these shootings as much as they did with the 2002 snipers, she said.
"At that time, we were scared," Maximo said. "You didn't know if you were going to be the next victim. This is very different."
Criminal profiler Pat Brown, who trains law enforcement, believes the shooter is a younger man likely from the area around the museum. She believes the shooter is taking shots at familiar targets.
"He's getting a kick out of doing his sniping and seeing it in the newspaper," she said. "The question is: Will he escalate?"
Roger Bomar of Washington believes the shootings are still dangerous, even if they are happening at off-hours.
"It's still a big concern," said Bomar, who works as a sales representative at a store in the mall in Pentagon City. "There could be a stray bullet. A bullet doesn't have a name on it."