Explosive wildfires in Southern California force tens of thousands to evacuate
At least three wind-whipped wildfires exploded Tuesday in Southern California, forcing more than 150,000 people to evacuate and scorching thousands of acres.
Ventura County Fire officials said the larger blaze, known as the "Thomas Fire," broke out Monday evening east of Santa Paula, located about 60 miles northwest of downtown Los Angeles. The fire has grown to 45,000 acres and has destroyed 150 structures, according to the Ventura County Fire Department.
Gov. Jerry Brown declared states of emergency Tuesday for Ventura County and nearby Los Angeles County.
"The prospects for containment are not good," Ventura County Fire Chief Mark Lorenzen said at a news conference. "Really, Mother Nature is going to decide when we have the ability to put it out because it is pushing hard with the wind."
Firefighters have been unable to reach some of the severely burned areas to confirm lost homes. But Incident Commander Toss Derum told the Associated Press that a bigger tally will likely come on Wednesday. Derum says some 3,000 homes are threatened.
At a news conference Tuesday afternoon, Los Angeles Mayor Eric Garcetti urged people to pack up and go rather than wait and risk their lives.
He said shelters can accommodate as many as 12,000 people.
After initial reports of a fatality, county fire Capt. Steve Kaufmann said a dead dog but no person was found in an overturned car. Lorenzen said at a news conference Tuesday a battalion fire chief was injured in a car crash, but not seriously hurt.
The fire has grown to 85 square miles, with strong winds forcing
water-dropping planes and helicopters essential to battling the blaze to be grounded. Officials hope to have the aircrafts in the sky on Wednesday, but early indications seem to suggest the winds will remain at high speeds.  

More than 1,000 firefighters are battling the fire, and power outages have been reported in Santa Paula, Camarillo, Ventura and Santa Barbara.
"This fire is very dangerous and spreading rapidly, but we'll continue to attack it with all we've got. It's critical residents stay ready and evacuate immediately if told to do so," Brown said.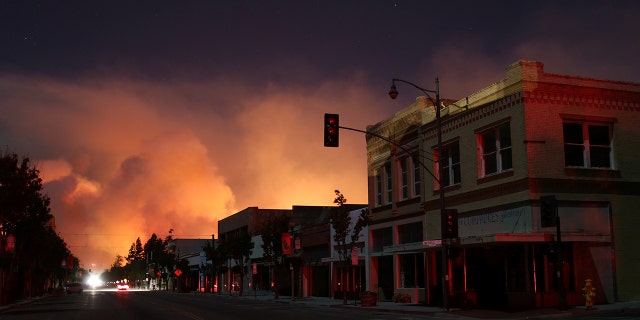 Southern California Edison said nearly 180,000 customers in the Ventura County area were without service. Ventura County Fire Public Information Officer Rick Macklin told Fox News around 8,700 homes have been evacuated so far.
The fire is currently burning brush that has not burned in 20 years. The cause of the fire is undetermined.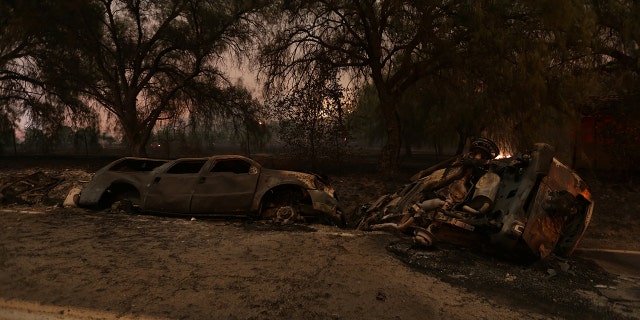 "The fire growth is just absolutely exponential," Lorenzen said. "All that firefighters can do when we have winds like this is get out ahead, evacuate people, and protect structures."
Authorities say Ventura, a city of more than 100,000 people 12 miles away, is expected to feel the effects of the fire soon. Thomas Aquinas College, a school with about 350 students, also has been evacuated.
The wildfire jumped the U.S. Highway 101 to a rocky beach
northwest of Ventura, prompting new evacuations. However, due to the lack of vegetation and scarce population officials said it was not overly dangerous, and that the highway remained open.
A psychiatric hospital burned to the ground as the blaze roared through Ventura County, Fox 11 reported. The Vista del Mar Hospital treats patients with mental health problems, chemical dependency and veterans with post-traumatic stress syndrome.
"Our goal is to keep the public as safe and informed as possible,"  Lorenzen said, adding that conditions are "about as bad as they can be for fire spread."
Evacuation shelters have been set up at the Miners Building at the Ventura County Fairgrounds and Nordhoff High School, Fox 11 reported.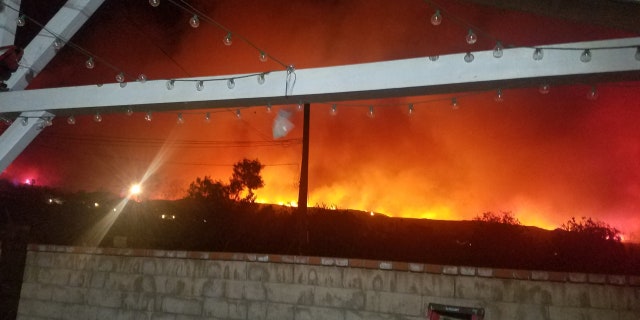 Residents located outside the evacuation zone watched the blaze shift along the nearby hills overnight, and debated whether they should stay or go.
"I just hope we're all right," Taylor Penny told the Los Angeles Times.
Nearby, Eddie Barragan and his wife Maria told the Times they were watching the fire for hours.
Barragan, who told the newspaper he was an iron worker who worked as a wildlife firefighter, was studying the flames and paying attention to how the wind shifted.
"If it comes over this next ridge, or the wind shifts, it takes one ember to get on one of these houses, and there it goes," he told the Times.
As firefighters battled the "Thomas Fire," a second blaze broke out around 40 miles east on the north edge of Los Angeles that is threatening portions of the Sylmar and Lakeview Terrace neighborhoods and charring more than 4,000 acres, according to Fox 11.
The "Creek Fire" was first reported as a 100-acre fire, but quickly grew, Los Angeles County Fire Department officials said. There were mandatory evacuations issued for 2,500 homes as red flag and high wind warnings continue in the area.
As if fire crews weren't busy enough, a third blaze dubbed the "Rye Fire" broke out near Rye Canyon Road in Santa Clarita, which is now at 200 acres and is zero percent contained.
Interstate 5, known as the Golden State Freeway, was closed in both directions at the 126 Freeway because of the blaze, the Los Angeles County Sheriff's Office said.
The National Weather Service said winds of 43 mph with gusts over 60 mph have been reported in the area, and are expected to continue throughout the day.
"Damaging #SantaAnaWinds and very critical fire weather conditions today and again late Wed night-Thu," the weather service said on Twitter. "Main impacts include downed trees/powerlines, blowing dust, power outages, and very rapid fire spread."
Typical of fall, the Santa Ana winds are spawned by high pressure over the Great Basin that sends air flowing toward Southern California where it speeds up as it squeezes down through mountain passes and canyons and blows out toward the coast.
The Associated Press contributed to this report.