Ex-trooper explains why he tased teen before fatal crash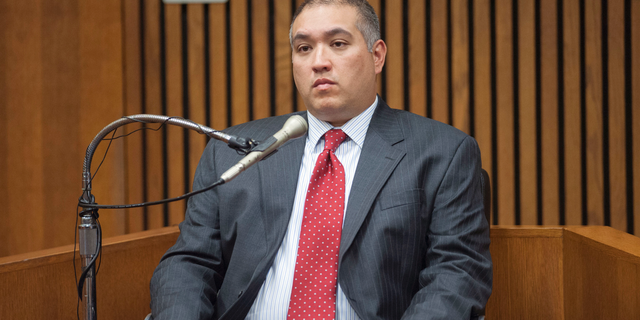 DETROIT – A former Michigan state trooper whose use of a Taser preceded the death of a 15-year-old black Detroit boy told jurors Thursday that he "absolutely" believed the teen was armed and was "shocked" to learn there was no gun.
Mark Bessner, who is white, testified in his own defense at his second-degree murder trial. He insisted that he believed Damon Grimes was reaching for a gun in his waist while he and a state police partner pursued the boy's all-terrain vehicle on a Detroit street in 2017.
Grimes crashed the ATV and died after he was twice struck by Bessner's Taser, which is fired like a gun and is intended to immobilize people. Bessner fired from the passenger seat of his moving patrol car after Grimes had slowed down.
"It was a terrible tragedy," said Bessner, his voice breaking, "and all I could think of was that this family had lost their son. All I could think of was my daughter, and what they must be going through."
Prosecutors said Bessner, who quit the state police after the incident, created a very high risk of death with the Taser. State police officials supported the second-degree murder charge, saying Grimes' death was a crime.
Grimes' only offense appeared to be driving an ATV on a city street . Bessner's partner made a U-turn and began pursuing him when the ATV veered toward their car.
"He had slowed down and he had looked back several times," Bessner testified. "There was one very, very crystallizing moment where his left hand reached down towards his waist."
He later said he "absolutely" believed Grimes had a gun and that his life was in jeopardy.
"It was a deadly force situation, is what I thought, and I used the tool I had available to me," Bessner said.
After Grimes crashed the ATV, Bessner said he and his partner tried to help the teen. He also searched the victim for a gun.
"I was shocked that he didn't have a weapon. I was shocked at the magnitude of what had happened," Bessner testified.
Closing arguments are set for Monday in Wayne County court.