Ex-hitman describes more killings in testimony at Bulger trial in Massachusetts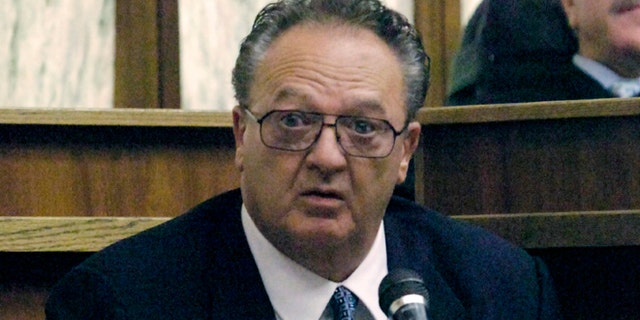 NEWYou can now listen to Fox News articles!
BOSTON – Former hitman John Martorano has described more killings as he testifies for a second day in the racketeering trial of James "Whitey" Bulger in Boston.
On Tuesday, Martorano gave chilling details about murders he committed after they were ordered by Bulger and his partner, Stephen "The Rifleman" Flemmi. He also described a 1975 killing he said Bulger and Flemmi did themselves
Martorano said Bulger and Flemmi shot Edward Connors in a phone booth because they were afraid he would tie them to the 1973 killing of a Bulger rival.
Martorano served 12 years in prison after admitted killing 20 people. Twelve of those people were killed while Martorano was working with Bulger and Flemmi.
Bulger's defense team, meanwhile, attempted to portray former Bulger associate John Martorano as a ruthless serial killer who would do anything for money, MyFoxBoston.com reported.
Martorano kept his calm demeanor while fielding questions from the prosecution as he matter-of-factly explained grisly details in the murders of Thomas King, John Callahan, and Roger Wheeler.
In discussing the King murder and Bulger's relationship with him, Martorano said "I guess he and Tommy couldn't get along." Martorano said he joined Bulger, King, and Winter in a car and that King was told they were going to kill another man. Flemmi arrived and handed them all guns, but before they arrived to the hit, Martorano shot King in the head, the station reported.
Martorano said after the murder, Bulger said, "Tip your hat, there's Tommy," when they drove over the bridge near King's burial site.
The former Bulger associate also described killing Richard Castucci as he sat counting money with Bulger. He said Bulger's friend "Zip," the nickname for FBI agent John Connolly, told Bulger Castucci was talking to the Feds.
The reputed hitman claims he and another associate killed Wheeler as he got into his car at a country club. He said former FBI agent H. Paul Rico wrote down Wheeler's information and gave Callahan his expected tee time at the country club. Callahan then gave that information to Martorano.
Despite claiming he was not a hitman because he never received money for committing murder, Martorano said Callahan gave him $50,000 for murdering Wheeler, which he then split among another associate, Bulger, Flemmi, and himself.
"He was my friend, I woulda done it for free," said Martorano.
During cross-examination, the defense immediately asked Martorano if he would describe himself as a serial killer. He said he would not, since serial killers enjoyed committing murder and he did not. He claimed he did not enjoy killing, but enjoyed helping friends when he could, the report said.
Attorney Hank Brennan questioned Martorano about several murders, one of which Martorano claimed happened when the man "stared him down" while he was on a date. Martorano claims he stabbed the man after he tried to stab him first and then dragged him to his car to get him somewhere that he could get medical attention. Brennan questioned whether or not he was trying to get the man help, causing Martorano to become visibly flustered. Martorano says he did not plan to drive the man somewhere else to kill him, but said he stabbed him again inside the car because "he would not shut up."
The 83-year-old Bulger is charged in a racketeering indictment with participating in 19 killings.
Click for more from MyFoxBoston.com
The Associated Press contributed to this report