Dry conditions hinder battle against Western wildfires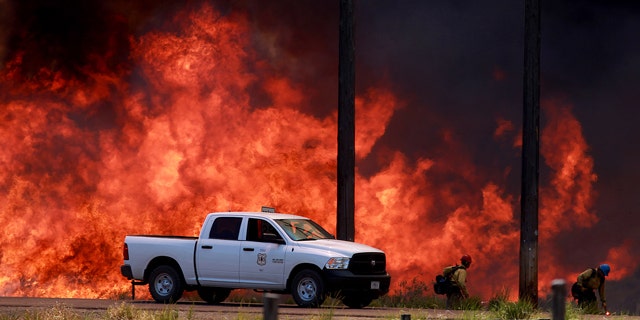 WINTERS, Calif. – Crews battling a wildfire Monday in a rugged patch of far Northern California faced another day of triple-digit temperatures and gusty winds as officials warned the flames could again threaten homes.
Such dry conditions have hurt the fight against other wildfires in Nevada, Idaho, New Mexico, Utah and Washington state.
In California, crews were able to increase containment of the Monticello Fire to 45 percent from 35 percent in the steep mountains near Lake Berryessa in Yolo County.
More than 1,600 firefighters battling the blaze Monday made "good progress" on its front end as temperatures soared past 100 degrees, state fire spokesman Chris Christopherson said.
"We're going to have an aggressive attack not only from the ground but the air as well to maintain our control lines," said Christopherson, adding that all road closures were lifted by midday Monday.
The fire has burned about 10 square miles since beginning Friday. It has been stoked by gusty winds and fueled by thick, brittle brush that has not burned for at least two decades and is extremely dry because of the California drought.
One firefighter was hospitalized Sunday with minor injuries after a bulldozer he was operating rolled over. Another firefighter suffered a bee sting, and a third had heat exhaustion, state fire spokesman Daniel Berlant said.
A threat to roughly 40 homes in Golden Bear Estates dissipated late Sunday, leading authorities to lift evacuation orders for the neighborhood.
Jodi Westropp, 43, told the San Francisco Chronicle that she was thankful her neighborhood was spared but understood the danger might not be over.
"It's a risk here," she said. "It's just so dry."
Firefighters who had been battling another wildfire northwest of Lake Berryessa were sent to attack the Monticello Fire after the other blaze became 90 percent contained. It had burned nearly 7 square miles and destroyed two homes, Christopherson said. Four firefighters suffered minor injuries.
Lake Berryessa, about 75 miles northeast of San Francisco, is a popular recreation spot that attracts boaters and campers during the Fourth of July weekend.
Elsewhere in the West, officials reported gains in containing several wildfires that covered a combined 33 square miles in remote parts of eastern Nevada and southwestern Utah.
No homes or other structures were threatened. In eastern Nevada, two of more than 470 firefighters at the 1,200-acre Cottonwood Fire were treated for dehydration.
Also in eastern Nevada, the 14-square-mile Lages Fire was about 75 percent contained, with full containment expected Tuesday, federal Bureau of Land Management spokesman Chris Hanefeld said.
In northeast Utah, a wildfire that has burned 5 square miles, a home and two cabins was 25 percent contained. The Greek Peak Fire has burned 1.2 square miles in southwestern Utah and was about 80 percent contained.
In northern New Mexico, a lightning-sparked, 5 1/2-square-mile fire was 95 percent contained.
In Idaho, all evacuations were lifted Monday as more crews were dispatched to the Colorado Gulch Fire in Blaine County as flames spread. The fire has blackened a square mile since it started Sunday, and officials hope to have it contained by Tuesday.
In central Washington, authorities advised residents in about 70 homes near Mansfield to prepare to evacuate after a fire that began Sunday burned over half a square mile.