Defense Pushing for Monthlong Delay in Fort Hood Shooting Hearing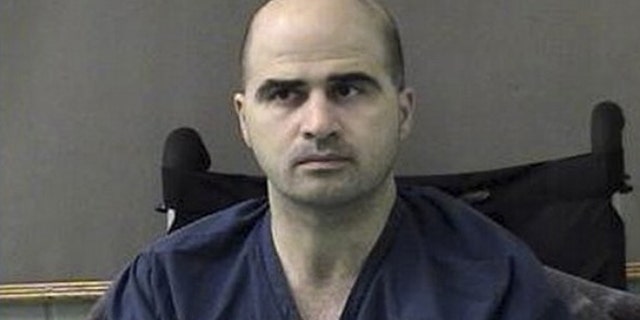 FORT HOOD, Texas – FORT HOOD, Texas -- A military hearing to determine whether an Army psychiatrist should go to trial for a deadly shooting rampage at Fort Hood was abruptly adjourned for the day Tuesday when defense attorneys asked for a nearly monthlong delay.
The start of the Article 32 hearing involving Maj. Nidal Hasan had been stalled for more than 2 1/2 hours because of what Col. James L. Pohl, a military judge acting as the investigating officer in the case, described as scheduling issues.
Shortly after it began, defense attorney Lt. Col. Kris Poppe asked that the proceeding be delayed until Nov. 8 and said attorneys needed a day to explain the request in writing. Pohl adjourned the hearing until Wednesday.
"We're not operating on a time limit or clock," Pohl said. "We've got to protect everybody's right. I've got to make a record."
Hasan, 40, is charged with premeditated murder and attempted premeditated murder in the Nov. 5 attack, which killed 13 people and wounded 32 others. It was the worst mass shooting at an American military base.
At the military base early Tuesday, barriers blocked the front of the courthouse and soldiers stopped and searched all vehicles. Courtroom spectators passed through metal detectors, and green cloth covered fences were set up at the rear of the courthouse to prevent photographers from catching even a glimpse of Hasan as he arrived.
Hasan was expected to be seated just a few feet from witnesses who will be asked to describe the attack to the military courtroom.
Article 32 hearings are unique to military courts, where prosecutors and the defense can call witnesses, and both sides are able to question them and present other evidence. The hearing was expected to last three weeks.
The investigating officer, Pohl, has said he wants to hear from all 32 injured victims but has not said why. Prosecutors usually ask only a few key witnesses to testify at such hearings. Authorities have not said whether they will seek the death penalty if the case goes to trial.
About 300 people were in the Soldier Readiness Processing Center when a gunman jumped up on a desk, shouted "Allahu Akbar!" -- Arabic for "God is great!" -- and opened fire. Some described hiding under desks or pulling wounded soldiers out the door as the gunman fired two pistols, one a semiautomatic.
Prosecutors quickly stopped witnesses from publicly discussing what they had seen because of the complexity of any case that qualifies for the death penalty.
Among those expected to testify was Sgt. Kimberly Munley, who was shot in the hand and leg as she and another Fort Hood police officer engaged in a firefight with Hasan, wounding him.
While in custody, Hasan was treated for five months at a San Antonio hospital. He is now paralyzed from the chest down. He has been jailed since April in Bell County, which houses military suspects for nearby Fort Hood. The military justice system does not offer bail.