Couple rescued from Wyoming ice cave want to explore it again, say experience created 'respect for death'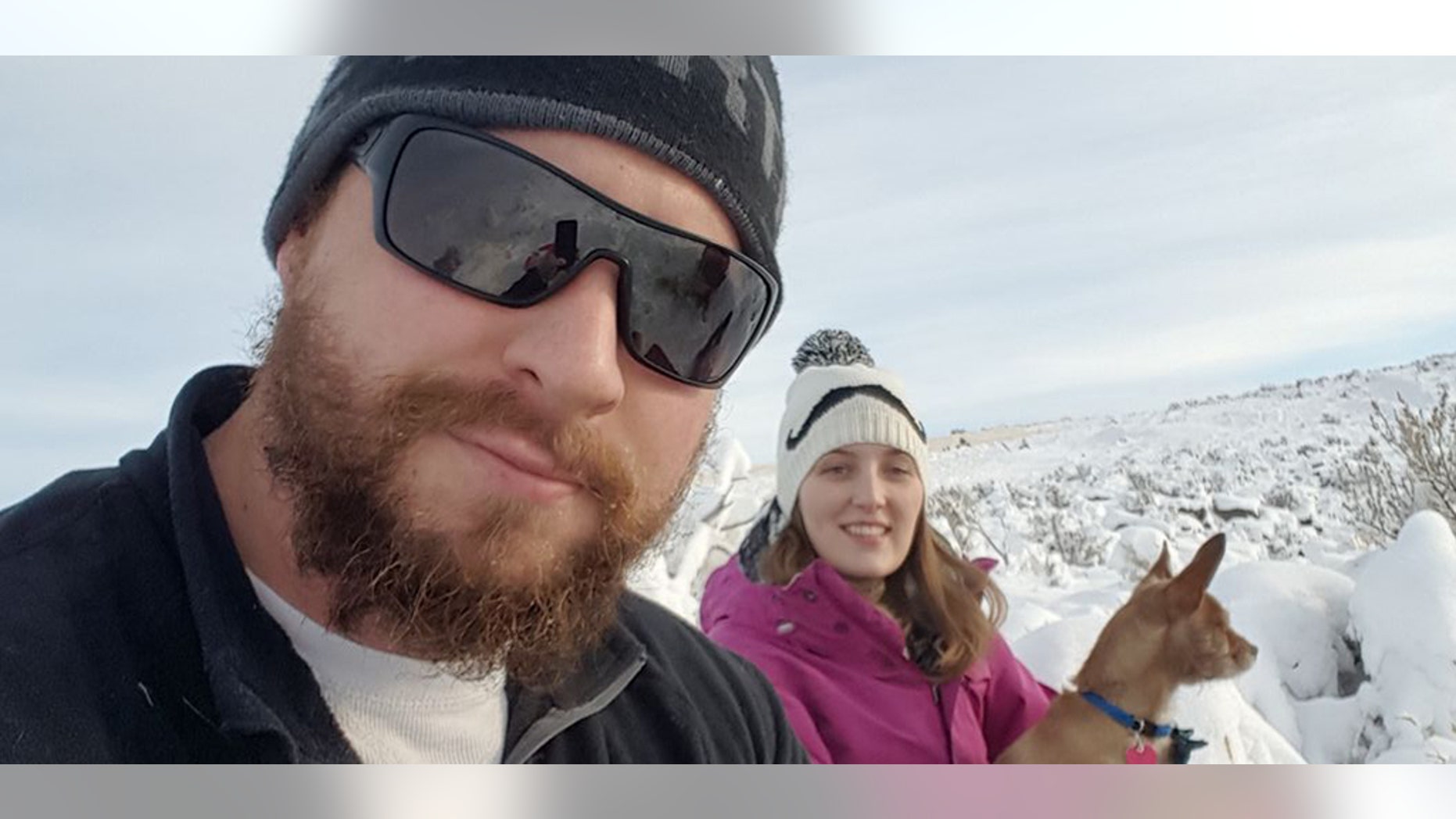 A near-death experience that left an Idaho couple fighting for their lives inside a cave in western Wyoming hasn't deterred the self-described "adrenaline junkies" from wanting to explore the same area again.
"We don't want to be seen as victims, we were up there doing amazing things that we love to do," Spencer Christiansen, 31, told Fox News on Thursday. "The cave was beautiful, I want to explore it again."
"That trip is burnt into my memory" he added.
Spencer's wife, Jessica, echoed this sentiment, though noted she would only return to the Darby Canyon Ice Cave with proper equipment, warmer clothing and most importantly, a guide and more people.
COUPLE TRAPPED IN CAVE BURN EVERYTHING INCLUDING THEIR HAIR TO KEEP WARM: 'WE KNEW WE WERE IN SOME DEEP TROUBLE'
"It's one of those things where you have to 'jump back on the horse' to conquer your fear," the 24-year-old told Fox News. "This experience created a new connection and respect for death."
The couple, of Idaho Falls, made national headlines this week when they were rescued Sunday after being trapped inside the cave for nearly two days. What they expected to be a one day trip to celebrate Spencer's birthday turned into a fight for survival.
Spencer and Jessica — both experienced hikers and rock climbers — ran out of food and burned many of their belongings (including a clump of Jessica's hair) to stay warm. They were experiencing early stages of hypothermia by the time volunteers with Teton County Search and Rescue made their way to them.
"It was only a lack of good information that caused the issue in the first place," Spencer said, explaining he had researched the cave before the two set out but now realizes that much of the information was misleading.
"We are adrenaline junkies. This experience created a new connection and respect for death."
The couple became trapped in what Spencer described as a "dead room" after they spent hours making their way through narrow passageways, over rocks and through freezing water. At one point, they saw a rope hanging down from the ceiling and were hopeful that, despite their lethargy and numbing temperatures, they would garner the strength to climb the rope and find a way out.
HIKER LOST ON MOUNT ST. HELENS SURVIVED BY EATING BEES AND BERRIES: REPORTS
Eventually, they made it to the top — but it wasn't an exit as they had hoped.
"We were fighting for our lives at that point," Spencer said. "We got all the way to the top and discovered that it wasn't the way out."
Soon after, they heard voices.
"We couldn't believe it," Spencer recalled thinking. "I thought, 'Holy cow we're going to be saved, we're going to get out of here.'"
Jessica's mother called a search and rescue team after the two didn't return to pick up their 1-year-old daughter, who was staying with her grandparents while they were away. Spencer said he told his mother-in-law before they embarked on the trip to call for help if she didn't hear from them by a certain time.
The rescuers eventually made their way up to the couple, who were "shivering and weak."
The rescuers, who have not yet been identified, were "light-hearted the whole time, making jokes and stayed positive," Spencer said, adding that he was flattered when they praised him and Jessica for their survival techniques.
"We made it as easy as possible to be found," Spencer said, explaining that he used charcoal to draw arrows on the cave walls to help rescuers locate them. "We weren't giving up or sitting around waiting to die. We wanted give search and rescue the proper chance to find us."
With help from the volunteers, the couple eventually made their way out of the cave, only to have to hike a few hours back down to the parking lot. Eventually, they made it back. While they're "sore and tired," both Spencer and Jessica are in good health and back home with their daughter.
"This is not some terrible tragedy," Spencer said of the event. "We love to do this type of adventure; this our first really bad experience doing anything like this."
MARYLAND FISHERMAN 'ACCIDENTALLY' CATCHES BULL SHARK WEIGHING 310-POUNDS: 'I'VE NEVER SEEN ONE THAT BIG'
For anyone hoping to embark on an adventure — whether it's a simple hike or exploring a cave — Spencer recommends "taking proper precautions. You have to let your family know where you are and when you're supposed to be back."
"It's an adrenaline rush," Spencer said, adding that he and Jessica bonded over their love of adventure.
"A lot of people find it crazy, but we don't like to live our life on the couch," he said.