Clinton and Sanders in a Battle Royale As GOP Race Tightens in NH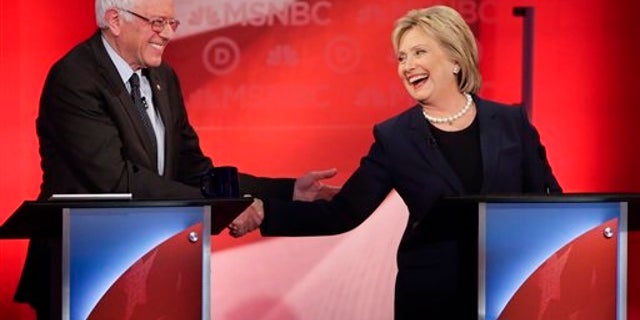 NEWYou can now listen to Fox News articles!
A fiery debate last night in New Hampshire. Bernie Sanders and Hillary Clinton in a contentious debate where the gloves came off on both sides. Hillary Clinton accusing Sanders at one point of smearing her with innuendo. Bernie Sanders hammering Clinton again and again over speaking fees and her ties to Wall Street. Hillary Clinton suggesting Bernie Sanders wasn't a real Democrat and that by his standards no Democrat is progressive enough, and daring him to give an example of when contributions got her to change a vote on anything.
Here's how Dan Balz put it in the Washington Post, "Hillary Clinton is not going down in defeat to Sen. Bernie Sanders in New Hampshire without a fight. That was the overriding message that came through when the two Democrats met for their first one-on-one debate of what has become a competitive and spirited contest for their party's nomination. For months, Clinton and Sanders had waged a relatively polite and respectful campaign against each other. Clinton originally saw no particular interest in going after Sanders, and the senator from Vermont claimed that he had never run a negative campaign in his life and wouldn't do so. In fact, the two have been edging closer and closer to outright attacks. On Thursday night, it all boiled over on the debate stage."
Gabriel Debenedetti in Politico writing, "Escalaing the brawl that's defined the Democratic primary, Hillary Clinton and Bernie Sanders viciously attacked each other's progressive credentials at Thursday night's debate, with Clinton accusing Sanders of smearing her record and treating her differently because she's a woman."
New polling suggests Hillary Clinton will lose to Bernie Sanders in New Hampshire on Tuesday by as much as 30 (!) points.
One note of caution though, we may be seeing some changes in the Clinton/Sanders face off in NH. WHDH reporting that their tracking poll shows Hillary gaining since Iowa versus Sanders, "Watch out Bernie, here comes Hillary! Hillary Clinton is surging, and Bernie Sanders is flirting with free-fall. We could be watching a re-run of the comeback kid. Sanders is number one, but weakening. He gets 55%, after losing 3 per centage points over night, while Clinton, with 40%, gained 4 points since yesterday. Undecideds are now 4%, down one point. The tracking poll shows Clinton's dramatic rise: She's now just fifteen points behind Sanders, after trailing him by 31 when we started polling this week."
1215EST -- Hillary Clinton holds a Canvass Kick-off event. YWCA, Manchester, NH. LIVE via LiveU
1300EST -- Sen Sanders holds a rally. Exeter Town Hall, Exeter, NH. LIVE via LiveU
On the GOP side, Jeb Bush and Chris Christie are stepping up attacks on Marco Rubio as he continues to consolidate support (and raise money).
Barbara Bush and former President George W Bush have stepped up their presence in Jeb Bush's campaign with new advertisements and interviews.
Chris Christie has been particularly vicious in his attacks on Rubio calling him the "boy in the bubble," and suggesting he can't handle the press without handlers.
Some of the air appears to be coming out of the Donald Trump campaign. After a stinging loss in Iowa after leading all the pre-caucus polls, Trump appears to be tweaking his campaign. Recent polls suggest some of his strong lead in New Hampshire ahead of Tuesday's voting has slipped away.
Ben Schreckinger in Politico today writing, "Three days after his loss in the Iowa caucuses, Donald Trump is coming down to Earth. On Thursday, the candidate who criss-crosses the country holding mega-rallies and boldly predicting victory in Monday's caucuses shifted gears, adding humble retail stops to his campaign schedule and warning his supporters not to assume he will win Tuesday's primary."
1130EST -- NJ Gov Christie holds a town hall meeting. Timberland, Stratham, NH. LIVE via LiveU
1230EST -- Donald Trump holds a town hall meeting. Londonderry Lions Club, Londonderry, NH. LIVE
1230EST -- OH Gov Kasich holds a town hall meeting. Lawrence Barn Community Center, Hollis, NH. LIVE via LiveU
1310EST -- NJ Gov Christie pre-tapes interview with O'Reilly. LIVE
New polling out by NBC News/WSJ/Marist in New Hampshire shows a huge surge by Marco Rubio. It puts Trump as the front runner still with 30% followed by Rubio at 17%, Ted Cruz at 15%, John Kasich at 10%, Jeb Bush at 9% and Chris Christie at 4%.
It's jobs day and we'll get a good idea of how the U.S. economy is holding up in the face of a dramatic downturn worldwide.. led by China.
Analysts are expecting 200,000 jobs were added in the U.S. in January with the unemployment rate unchanged at 5%.
There's growing fears that toxic loans around the world are holding economic growth back. A New York Times analysis explains the trouble in a big investigative piece today.
A diplomat says an explosion on a plane this week was caused by a terrorist bomb. It's believe the bomber blew himself out of the plane when the device exploded. It's believed he boarded the plane in a wheelchair and was able to escape detection by security because of that chair. He was the only one killed but it blew a hole in the fuselage before the plane landed successfully. Al Shabab likely behind the plot.
Syrian troops are advancing on the rebel stronghold of Aleppo in Syria as the civil war rages on there. More than a quarter of a million people have died.
A volcano erupted in Japan. We'll look for video.
For more news, follow me on Twitter: @ClintPHenderson