Catholic bishops vote to create new sex-abuse reporting hotline
U.S. Catholic bishops voted on Wednesday to create a new national sex-abuse hotline run by an independent entity. The move marked one of the church's most notable steps in confronting its sex-abuse crisis.
Bishops approved the idea for the hotline during their national meeting. The hotline would take complaints by telephone and through an online link. That information would then be sent to regional supervisory bishops.
"I can't imagine a bishop not using a lay-led review board that's filled with people who have expertise in this area of investigation, people with a legal background or a law enforcement background," Robert Barron, the auxiliary bishop of the Los Angeles Archdiocese said, although it will not be required for supervisory bishops to seek outside help in their investigations of the allegations.
The general counsel for the U.S. Conference of Catholic Bishops said the reporting system will be a "very sophisticated switchboard."
VATICAN LAW REQUIRES CLERGY TO REPORT SEX ABUSE AND COVER-UPS
The bishops' deliberations have been directed by a groundbreaking new law that Pope Francis issued last month, a law that went into effect June 1. The law requires priests and nuns around the world to report all clergy sexual abuse, as well as cover-ups by their superiors, to church authorities.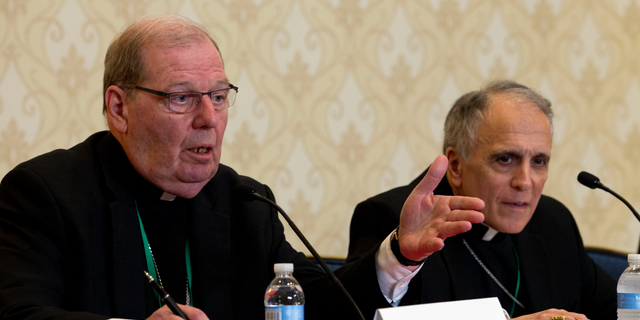 Advocates for abuse victims have urged that U.S. bishops also be required to report suspicions to police and prosecutors.
A national poll released Tuesday found one-quarter of U.S. Catholics said they have scaled back mass attendance and donations in response to recent reports of sexual abuse and misconduct. The Pew Research Center survey conducted in March also revealed only 36 percent said U.S. bishops had done a good or excellent job responding to the abuse and misconduct allegations.
Many dioceses have become the focus of state investigations since a Pennsylvania grand jury in August detailed hundreds of cases of alleged abuse.
RETIRED POPE BENEDICT WEIGHS IN CATHOLIC CHURCH SEX ABUSE SCANDALS, BLAMES IT ON SWINGING '60S
Former Cardinal Theodore McCarrick of Washington was expelled from the priesthood in February after the Vatican determined that accusations he sexually abused a minor were "credible."
Another investigation recently concluded that a former bishop in West Virginia engaged in sexual harassment.
Cardinal Daniel DiNardo, who heads the bishops' conference and the Galveston-Houston Archdiocese, has been entangled in the controversy, accused of mishandling a claim of sexual and financial misconduct against his deputy, The Associated Press reported last week.
In a press release, The United States Conference of Catholic Bishops said the General Assembly "voted overwhelmingly" in favor of a third-party reporting system.
"It is important to note that anyone who has suffered sexual abuse by clergy should not wait for this national reporting system to be in place before reporting abuse," the release stated, urging those who may have been abused to contact local law enforcement or church authorities as soon as possible.
CLICK HERE TO GET THE FOX NEWS APP
It is expected to be operating within a year. The new system's startup cost is expected to be around $30,000, with an annual cost of about $50,000.
The Associated Press contributed to this report.