California wildfires leave Paradise 'destroyed,' force evacuees to abandon vehicles and run
Residents fleeing a northern California town that officials say was "destroyed" by a deadly, fast-moving wildfire were suddenly forced to abandon their vehicles in traffic and run for their lives as "things started exploding" around them.
The scenes of devastation in Paradise, widely circulating on social media Friday, come as more than 75,000 homes have been ordered evacuated farther south in Los Angeles and Ventura counties, where two other blazes rage. The mandatory evacuation area includes the entire beachside community of Malibu. Large swathes of land elsewhere in the state currently remain under a Red Flag warning, which Cal Fire says is "issued for weather events which may result in extreme fire behavior that will occur within 24 hours."
Investigators going through the Paradise area Friday said they found five people dead inside burned-out vehicles.
"Pretty much the community of Paradise is destroyed, it's that kind of devastation," Cal Fire Capt. Scott McLean told the Associated Press. He estimated the Camp Fire burned a couple of thousand structures to the ground in the town of 27,000 people, about 180 miles northeast of San Francisco. The size of the fire is about 110 square miles, he said Friday.
"We were surrounded by fire, we were driving through fire on each side of the road," said police officer Mark Bass, who lives in Paradise and works in neighboring Chico. He evacuated his family and then returned to the fire to help rescue several disabled residents, including a man trying to carry his bedridden wife to safety. "It was just a wall of fire on each side of us, and we could hardly see the road in front of us."
Other witnesses reported seeing homes, supermarkets, businesses, restaurants, schools and a retirement home engulfed in flames. Many residents who fled their homes didn't get very far very fast, as traffic was snarled on the gridlocked roads leading out of town. To make matters worse, as the flames approached, they sparked explosions and toppled utility poles.
"Things started exploding," said resident Gina Oviedo. "People started getting out of their vehicles and running."
Cars and trucks, some with trailers attached, were left on the roadside as evacuees ran for their lives, said Bass.
"They were abandoned because traffic was so bad, backed up for hours," he added. Many of the roads leading out of town were closed Friday.
Capt. Koby Johns of the California Department of Forestry and Fire Protection told the AP Friday that about 2,000 buildings have already been destroyed as a result of the Camp Fire, but he described those numbers as "very elastic."
Johns added that heavy winds continue to drive the fire but winds are expected to ease Friday afternoon, which could give firefighters an opportunity to start containing it.
The California Governor's Office of Emergency Services says the fires have forced 157,000 people from their homes throughout the entire state.
Chico police officer John Barker, along with his partner, said he evacuated several seniors from an apartment complex in the Paradise area on Thursday.
"Most of them were immobile with walkers, or spouses that were bed-ridden, so we were trying to get additional units to come and try and help us, just taking as many as we could," he said, describing the community as having "a lot of elderly, a lot of immobile people, some low-income with no vehicles."
Kelly Lee told the AP she called several shelters looking for her husband's 93-year-old grandmother, Dorothy Herrera, who was last heard from Thursday morning. Herrera, who lives in Paradise with her 88-year-old husband, Lou Herrera, left a frantic voicemail at around 9:30 a.m. saying they needed to get out.
"We never heard from them again," Lee said. "We're worried sick...They do have a car, but they both are older and can be confused at times."
In the midst of the chaos, officials said they could not provide figures on the number of wounded, but County Cal Fire Chief Darren Read said at a news conference at least two firefighters and multiple residents were injured.
The fire in Paradise was reported shortly after daybreak Thursday. By nightfall, it had consumed more than 28 square miles and firefighters had no containment, McLean said.
Farther south in the Los Angeles region, the Woolsey and Hill Fires were whipped up Thursday evening by powerful winds that pushed them through canyons and to the edge of Camarillo Springs and Cal State Channel Islands, both of which were evacuated, according to the Los Angeles Times.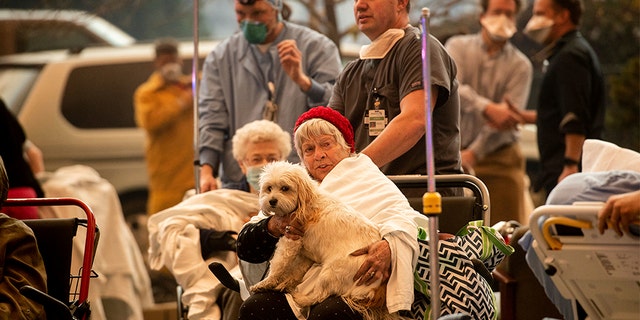 Fire officials said they expect those two fires to burn all the way to the ocean. Television reports showed several homes on fire in the Oak Park community, while authorities shut down the 101 Freeway in both directions at Camarillo Springs Road.
The Ventura County Fire Department said Friday morning a "significant" number of structures have been damaged or destroyed by the Woolsey blaze, which has grown to 8,000 acres with 0 percent containment.
Malibu, now under a mandatory evacuation order, has about 13,000 residents. Multiple schools and universities in the area canceled classes Friday as the fires spread.
Containment figures on the other two fires were not immediately available.
The Associated Press contributed to this report.