California Neighbors Irate Over Nazi Flag in Window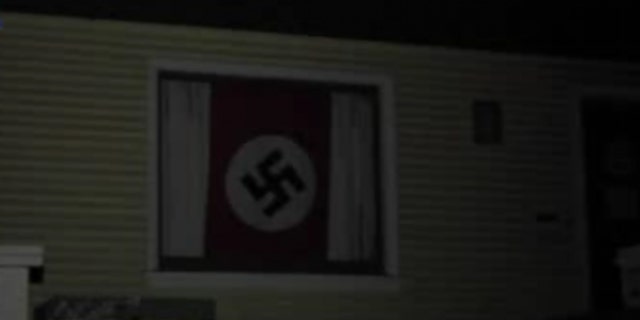 A Nazi flag hanging in the front window of a California's man home has some neighbors seeing red.
The flag was on display as of late Thursday in a home on U Street between 25th and 26th streets in Sacramento, KTXL reports.
Neighbor Jolane Davis told KTXL that her family was forced to move out and put her adjoining residence on the market because the owner of the flag would not stop harassing her family.
Davis said the flag appeared on Wednesday after she installed a sign advertising their previous home as a rental. She believes the man is trying to scare away potential renters.
"When I got the email last night of what was in the window, I was just floored," Davis told KTXL. "A part of me was like, 'Now everybody else is experiencing what we've been going through for years."
The man, identified by KCRA as Joe Ongaro, could be reached for comment by FoxNews.com on Friday. Ongaro confirmed to KCRA that he's flying the flag to prevent Davis from selling her home.
Ongaro's inspiration came from the movie "Step Brothers," in which brothers pose as a Nazu and a Klu Klux Klan member to sabotage their parents' attempt to sell their home, KCRA reports.
Another neighbor, Judy Trewartha, called Ongaro a "bully," while a third resident has called for the flag to be removed immediately, KCRA.com reports.
Click here for more on this story from Fox40.com.