Bob Evans kicks off 'Heroes to CEOs' contest to support veteran entrepreneurs
NEWYou can now listen to Fox News articles!
Scores of veterans who've forged determination and grit on the front lines of Afghanistan, Iraq and Vietnam, have dreamed of taking those skills from the battlefield to the boardroom. And one of America's major food companies wants to make sure that happens.
Bob Evans Farms has launched an initiative offering financial assistance to veterans or active-duty members with exceptional business ideas and a passion for entrepreneurship.
The new grant program -- called "Heroes to CEOs" -- will award three $25,000 business grants to deserving veterans who submit a video sharing their business idea and a plan demonstrating a solid business concept.
The program, announced last week, was developed in partnership with The Mission Continues, a non-profit veteran advocacy group, to support active-duty members and veterans, particularly those transitioning to civilian life. The initiative is the largest veterans-only grant program currently available for all veterans.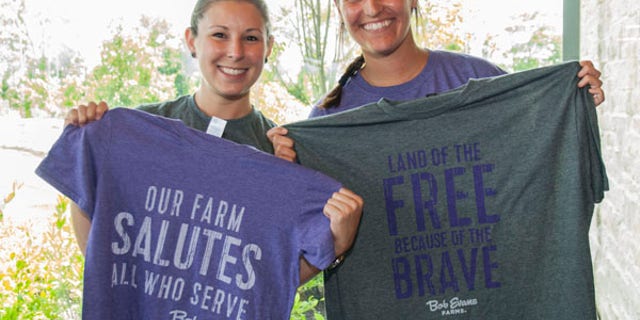 "These veterans leave behind a world that's very structured, with strict lines about how things are done," Mike Townsley, CEO and president of Bob Evans Farms, told Fox News. "As an entrepreneur, lines tend to get blurred and you have to figure out how to do things on your own -- there's no handbook for that."
"We want to help them," Townsley said. "Many returning veterans have innovative and interesting ideas but need help getting started. These problems are only exacerbated by the lack of funding options for veteran entrepreneurs."
The grant program is available for veteran entrepreneurs as well as not-for-profits because veterans "want to give back," the company said. In addition to grant money, the winning candidates will also receive a mentoring session with Daymond John, the founder of Fubu and investor on the show, "Shark Tank."
To enter, veterans need to have a business plan and fill out an application at www.ourfarmsalutes.com. Applications will be reviewed until Aug. 8 and the winners will be announced Sept. 12.
"The Mission Continues and Bob Evans share a commitment to empowering military veterans towards continued personal and professional success," said Spencer Kympton, U.S. Army veteran and president of The Mission Continues. "We have countless examples of how veterans are contributing their skills, experience and passion towards improving their neighborhoods across the country."
Cristina Corbin is a Fox News reporter based in New York. Follow her on Twitter @CristinaCorbin.