Best Buy shoplifting attempt with empty stroller ends in car crash, cops say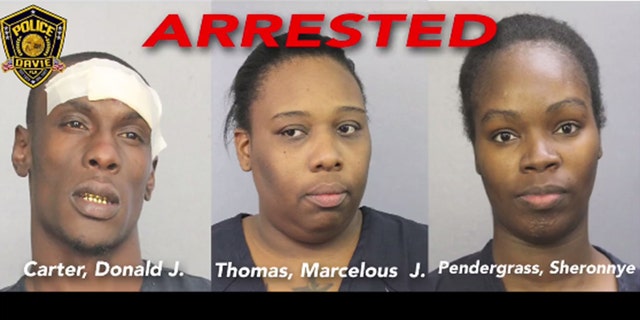 Two Florida women who used an empty baby stroller to steal items from Best Buy were busted after a clumsy getaway attempt involving multiple minor car accidents and, eventually, a crash, officials said.
Police in Davie, Fla., released video Thursday allegedly showing Sheeronnye Pendergrass and Marcelous Thomas loading items into a polka-dotted baby stroller before being busted by a Best Buy employee. The two women were arrested along with getaway driver Donald J. Carter, police say, after bailing from a vehicle -- each at a different time -- during their escape attempt.
"They were walking around lost in the neighborhood," Davie Sgt. Mark Leone said in a statement, according to Local 10.
Surveillance footage of the incident shows Thomas wrestling with a Best Buy worker at the store's entrance as she tries to run outside with merchandise she didn't pay for, authorities said.
"Best Buy loss prevention contacted the Davie police who observed the two run out of the store and get into a car that was waiting for them outside with Carter as the driver," police wrote on Facebook.
The vehicle hit three other cars in the store's parking lot and Pendergrass bailed at that point, and she was arrested.
"The way that they were driving through this parking lot seriously put a lot of people's lives in jeopardy," Leone told WSVN. "Trying to get away for, you know, a criminal act like this in the manner that they did -- it's unexplainable."
Thomas and Carter then switched positions as driver -- until crashing the vehicle in a nearby neighborhood and fleeing on foot after attempting a turn while going too fast.
All three face a variety of charges, including grand theft, property damage and resisting arrest, WSVN reported.