Bear causes ruckus in Southern California foothill suburb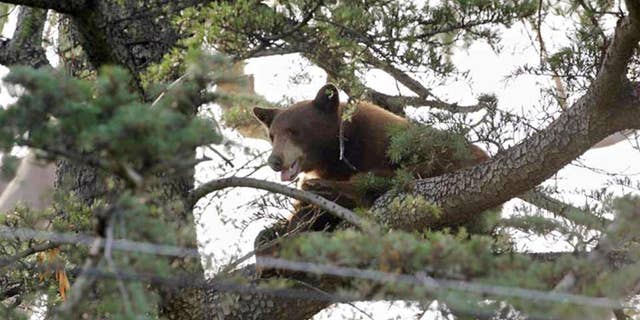 NEWYou can now listen to Fox News articles!
RANCHO CUCAMONGA, Calif. – Wildlife authorities have tranquilized a bear that rambled through a Southern California foothill suburb before taking refuge in a tree.
The bear was subdued late Wednesday morning in the backyard of a home in Rancho Cucamonga at the foot of the San Gabriel Mountains 40 miles east of Los Angeles. KABC-TV reports that three tranquilizer darts were used to knock it out.
Earlier, law enforcement officers pursued the bear to chase it away from populated areas, and precautions were taken at local schools.
One resident, Karen Moore, tells the station she found her dogs fighting with the bear outside her home. She says she screamed until the bear jumped over a gate and her dogs came back inside.
___
Information from: KABC-TV, http://abclocal.go.com/kabc/