'Baby Joseph' Leaves U.S. for Canada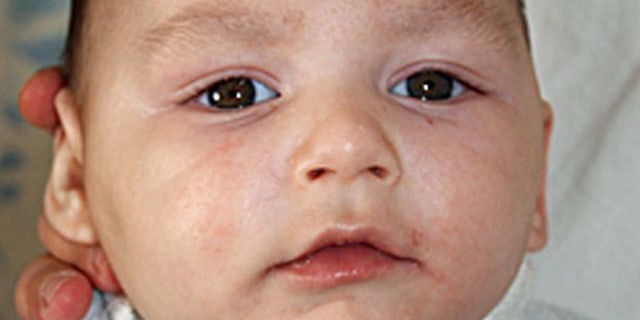 The terminally-ill Canadian baby at the center of a right-to-life dispute arrived home in Ontario Thursday morning after spending months receiving treatment from U.S. and Canadian hospitals, Fox News confirms.
Fifteen-month-old Joseph Maraachli, known to the world as "Baby Joseph," was transported from SSM Cardinal Glennon Children's Medical Center in St. Louis, where he received a tracheotomy last month, the Windsor Star reports. He arrived in Windsor, Ontario, Thursday morning.
The boy suffers from a rare, progressive neurological disease, which, Canadian doctors say, has left him in a vegetative state beyond recovery.
His parents, Moe Maraachli and Sana Nader, wanted the boy to undergo the tracheotomy so that he could spend his remaining days at home. London Health Sciences Center refused to perform the procedure, saying it had too many complication risks and would be too invasive, the Windsor Star reports.
Joseph's parents appealed to the Canadian courts, but the courts sided with the hospital. The boy was then taken by the Rev. Frank Pavone and other Priests for Life staff to Cardinal Glennon Children's Hospital, where doctors agreed to treat him and eventually performed his tracheotomy.
The tracheotomy was done to alleviate some of the baby's discomfort, and now Joseph is able to breathe on his own without mechanical assistance.
"We wanted to ensure that Joseph was as comfortable and as secure as possible," said Dr. Robert Wilmott, the chief of pediatrics at the hospital, calling the operation "a success."
"By providing him with this common palliative procedure, we've given Joseph the chance to go home and be with his family after spending so much of his young life in the hospital," Wilmott said in a statement released by Cardinal Glennon.
Priests for Life has covered all of the family's medical bills while Joseph underwent treatment in the U.S. and will also cover the costs of Joseph's flight home, the Windsor Star reports.
"Priests for Life is happy and humbled to have played a small part in making this joyous day possible. We ask everyone to join us as we continue to pray for Baby Joseph and his family," Pavone said in a statement.
Click to read more on Baby Joseph's transport from The Windsor Star.
The Associated Press contributed to this report.