Authorities Search for Indiana Drivers Trapped Under Snow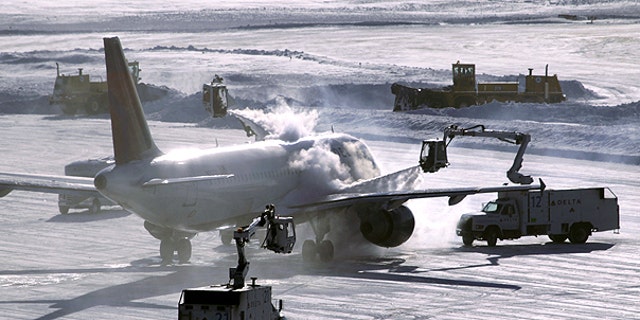 NEWYou can now listen to Fox News articles!
A feverish effort is underway in northwest Indiana to rescue more than 70 motorists trapped in cars in freezing temperatures, Fox59.com reports.
LaPorte County sheriff's Deputy Andy Hynek said Monday that officials don't know exactly how many people were stranded, but some had been stuck for as long as 12 hours.
The heavy lake effect snow in northern Indiana was part of a slow-moving storm that has been crawling across the Midwest since Friday night. It dumped nearly 2 feet of snow in parts of Minnesota and Wisconsin before moving into Michigan and Indiana. Monday, it stretched farther east, with snow in parts of Ohio, Pennsylvania and New York.
Northwest Indiana was hardest hit Monday, with up to 16 inches of lake effect snow in some areas around LaPorte. Lake effect snow develops when cold air rushes over the warmer water in Lake Michigan.
About 70 vehicles were trapped by snow drifts Monday morning on a section of Indiana 2 in the Valparaiso area.
Every available state trooper is out trying to help the stranded drivers and members of the Indiana National guard were also on scene to assist in the effort, Indiana State police spokesperson Ann Wojas said, according to the station.
A state of emergency was declared for many Northwest Indiana roads, Fox 59 reports, and Indiana state police are telling drivers to stay off the roads.
Crews were using front-end loaders to remove drifts on U.S. 30, where other drivers were trapped overnight, state highway department spokesman Jim Pinkerton said. Sections of Indiana 2 and U.S. 30 were closed, and with winds of up to 30 mph, LaPorte and Porter counties issued emergency orders telling drivers to stay off county roads as well.
"As soon as the plows go through an area, the wind is blowing fresh snow right back into the roads," Pinkerton said. "It is just really difficult for us to keep up against that wind and snow."
Truck drivers stopped at the Junction City Restaurant in Rolling Prairie near the intersection of U.S. 20 and Indiana 2 for lunch, hoping the conditions would improve. They said driving was particularly difficult in areas where wind was blowing across open farmland, sweeping the snow onto highways and making it hard to see.
"You can't see where you're going," said Larry Lewis, 63, of Lockport, N.Y., who had been heading west into the storm. "You don't know where the truck is going to end up."
Truck driver Gary Stutzman, 52, of Franklin, N.H., decided to alter his route after stopping in the diner. He originally planned to go west before picking up Interstate 65 south toward Indianapolis but said he would now back track and take U.S. 31 south instead.
"I'm going to try to avoid it," he said of the storm.
Three retirees who drove 2 miles to meet at the diner for lunch said even their trip was difficult.
"We couldn't even see on the way over," said Bill Sullivan, 73, of Rolling Prairie. "It was blinding. You can't see nothing. We're going home and getting out of this crap."
Indiana and the rest of the upper Midwest also were gripped by bone-chilling cold as arctic air swept in behind the storm. Wind chills were below zero in many places, and schools in Indiana, Michigan, Wisconsin and other states shut down because of the snow and cold.
As temperatures in the Detroit suburb of Dearborn struggled to reach double-digits Monday morning, Jeff Smith was digging out his car in his driveway -- with no gloves or hat.
"Gloves make it hard to shovel and my hair is still wet. So it's either you get a cold or you mess up your hair, so I risk the cold," said Smith, 57, a 30-plus-year Ford Motor Co. employee who's glad that his job is close to home.
The 12-degree temperature didn't stop hundreds of fans from lining up hours before free tickets to Monday night's football game between the Minnesota Vikings and the New York Giants became available at 9 a.m. at Ford Field. The game was moved to Detroit after the Minneapolis Metrodome's inflated roof collapsed Sunday under the weight of heavy snow.
The Lions said about 30,000 tickets were distributed before 11 a.m. They said fans with tickets to the game that had been scheduled in Minneapolis also would be admitted and given preferred seating in Detroit. Those with tickets from Sunday's Packers-Lions game in Detroit would be admitted free with no reserved seating.
In Minneapolis, stadium officials were trying to repair the roof in time for the Vikings' next home game, Dec. 20 against Chicago.
In the Chicago area, only a few inches of snow fell, but wind gusts of up to nearly 50 mph blew the roof off a building at Navy Pier and canceled more than 1,600 flights at the city's two airports Sunday. About 75 flights were canceled Monday, Chicago Department of Aviation spokeswoman Karen Pride said.
Click here to read more on this story from Fox59.com
The Associated Press contributed to this report