ASPCA makes record seizure of 600 animals from NC no-kill shelter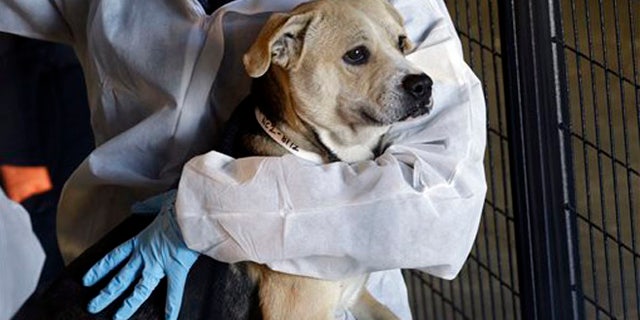 RALEIGH, N.C. – One of the largest rescues of companion animals in the history of the ASPCA is being carried out in North Carolina, where 600 or more dogs, cats, horses and other animals have been seized from a no-kill shelter.
About 300 dogs and puppies were already in a new temporary shelter Friday where 10 vets and 39 volunteers and staffers with the American Society for the Prevention of Cruelty to Animals were caring for them. The rest were on their way. Some had untreated injuries and illnesses, and investigators found dozens of carcasses on the 122-acre site, said Tim Rickey, ASPCA vice president of field investigations and response department.
Once the animals were moved and placed in clean kennels with shavings and raised beds, many of the animals seemed much happier, ASPCA shelter director Ehren Melius said.
"They were ecstatic," he said. "Our goal is to make each day better for them than the day before."
The animals had been held at The Haven-Friends for Life, a private shelter in Raeford that last had a license from the state in June 2015, managed by Stephen Joseph and Linden Spear, who appeared in court Thursday on animal cruelty charges. Their attorney didn't return a message.
An inspection by the state Agriculture Department in September found many deficiencies, including inadequate water and medical care.
After investigations following complaints in June and again on Monday, and the Spears' failure to correct shortcomings found during last year's inspections, the veterinarian who leads the Agriculture Department's animal welfare section denied their application to be a legal animal shelter and warned Tuesday of thousands of dollars in fines if operations continued.
Nancy Moore, who is allowing the couple to stay at her Southern Pines home, said she has supported the Haven with donations for the past 10 years and visited regularly. She described the shelter as a well-maintained operation that has adopted-out thousands of well-cared-for dogs and cats over the years.
"I think they have provided a tremendous service in terms of the community, and certainly for animals. I would say they have dedicated their lives to basically taking care of them," Moore said Friday.
Four of the rescued dogs were being treated for respiratory illnesses in a sick room, including a puppy that slept in a tiny ball at the back of her kennel. Some were taken to specialists for treatment of injuries, such as a broken leg, or illnesses, ASPCA officials said. One dog suffering from kidney failure was euthanized.
The majority were in the ASPCA's warehouses located about an hour southwest of Raleigh, grouped in pods that attempted to follow how they were grouped at the Haven. Rickey said the number of rescued animals could be as high as 650 when the operation is completed. That's the second-largest companion animal rescue in the history of the ASPCA, which saved more than 700 cats in Florida in 2012. The organization also once rescued 4,000 roosters in a cockfighting raid.
One pure white dog sat on a bed at the edge of his kennel, legs crossed in genteel manner. In another kennel, a light-colored pit bull mix was jumping excitedly. Other dogs slept, or watched visitors nervously. The ASPCA allowed a visit to the animals on the condition that their exact location not be reported, to avoid security problems for the staff and the animals, which need at least a month of care before any are ready to be adopted, spokeswoman Natasha Whitling said.