Alabama terror case involving 2 Americans could hinge on relationship with jihadist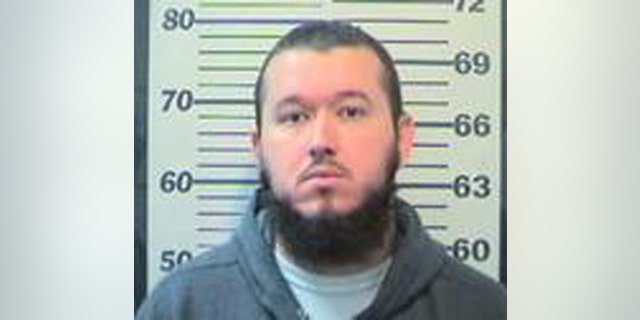 MOBILE, Ala. – The terrorism case against an Alabama man accused of planning to wage violent jihad in Africa may hinge on just how well he knew a man on the FBI's most-wanted terrorist list.
Federal prosecutors portrayed Randy Wilson as an Islamic radical who wanted to reunite with Omar Hammami, an American who also grew up in Alabama but has since become one of the most well-known jihadists in Somalia. Wilson and another American who lived in Alabama for the last year, Mohammad Abdul Rahman Abukhdair, are accused of plotting to leave the country to join Islamic radicals fighting in North Africa.
The two men were arrested separately about two weeks ago in Georgia. Abukhdair was taken into custody at a bus station; Wilson was arrested as he was about to board a flight to Morocco.
Wilson's attorney has described his client as a devout Muslim who was taking his family to Mauritania to study Islam, not wage jihad. Public defender Domingo Soto also said Wilson didn't live with Hammami, 28, about a decade ago, as the FBI has said, and the attorney questioned how well the two knew each other.
FBI agent Tim Green confirmed in federal court earlier this month that the information in the charging affidavit that Wilson and Hammami were roommates was incorrect and he wasn't sure where it came from.
It wasn't clear whether Abukhdair has an attorney yet.
Wilson, 25, has a wife and two young children. He was known around his neighborhood in Mobile, along the Alabama coast, for his big yard sales. He was friendly and outgoing, neighbors said.
Court documents, interviews with acquaintances and a sworn statement by an FBI investigator paint a picture of Wilson's troubled childhood.
Debra Lynn Weaver and Randy Lamar Wilson married in Mobile in 1986 and had Randy Jr. nine months later. Wilson's father was arrested on drug charges in the first of a string of scrapes with the law, and his mother filed for divorce four months later, when he was 1.
Wilson's mother remarried an Egyptian man when he was 5. She converted to Islam with the marriage, and her son eventually became Muslim, too.
Ashfaq Taufique, president of the Birmingham Islamic Society, remembered first meeting Wilson when he was attending an Islamic school.
"I knew him as a Muslim as a young boy," said Taufique. "He went by Randy and Rasheed."
Soto said Wilson has never been in trouble. While attending a Muslim school in Birmingham, he was offered prestigious scholarships to study abroad at places including Saudi Arabia, Soto said.
Hammami was the president of the Muslim Student Association at the University of South Alabama, the FBI said.
Shortly after the Sept. 11 terrorist attacks, he was quoted in a campus newspaper talking about the attacks.
"Everyone was really shocked. Even now it's difficult to believe a Muslim could have done this," he told The Vanguard.
Hammami later wrote in an online autobiography that he already had turned toward radicalism by that time and privately praised Allah for the attacks.
Hammami later went to Egypt and joined Islamic insurgents, becoming a spokesman in videos and blogs.
He has since fallen out of favor with leaders of the Somalian terror group al-Shabab, which issued a statement recently distancing itself from Hammami, whom it accused of "a narcissistic pursuit of fame."
In 2010, Wilson met Abukhdair online, according to the FBI. A native of Syracuse, N.Y., Abukhdair moved to Egypt in February 2007 to study Arabic, the FBI said. He was among a group of people arrested in Egypt in 2010, on suspicion of being involved with a terror group there.
He was put in prison for two months, and then he was deported to the U.S. last year.
He lived in South Carolina and Ohio, before coming to Mobile in late October 2011, according to an FBI agent's sworn statement.
Agents already were watching Abukhdair and Wilson by then. The FBI said Abukhdair moved in with Wilson's family and gave the Friday sermon at a mosque in Mobile about a year ago.
Leaders at the mosque didn't return telephone calls seeking comment, and a worker shooed away a reporter who visited.
The FBI said it kept tabs on the pair through an undercover operative. Wilson "described Hammami as a friend and showed the (undercover operative) an al-Qaeda video on his laptop praising jihad and the downfall of the West," the FBI said.
Wilson and Abukhdair began concocting ways to travel to Africa to join in jihad, an agent wrote.
Wilson, the FBI said, believed he would receive "special treatment" in Somalia because of his connection with Hammami.
"In addition to travel plans, they discussed their joy that Omar Hammami is now on the FBI `Most Wanted Terrorists' list, and were excited that he is now even more famous," said the FBI statement.
Wilson lived next door to Tom Rothaar for two years. Rothaar said he was a friendly neighbor and who would have frequent yard sales with items he bought in bulk from big-box retail stores.
Rothaar said he was "staggered" by Wilson's arrest and tried to make sense of it during a 5-mile run.
"I couldn't," Rothaar said. "The only thing I can think is all the typical clichDes about how I cannot believe he was living next door and seemed so normal."