5 men charged in killings of 2 Michigan women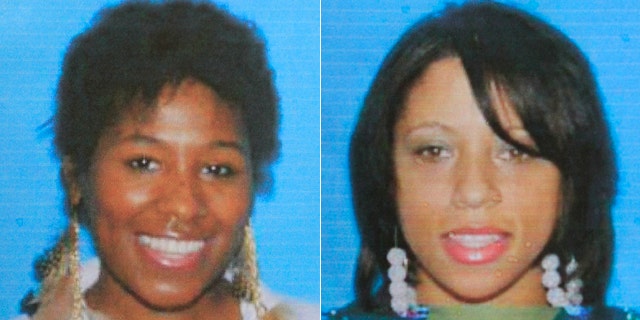 DETROIT – Five men have been charged in the abduction and slayings of two Michigan women who were kidnapped and stuffed in a car trunk at gunpoint, a prosecutor said Saturday.
Wayne County Prosecutor Kym Worthy announced the charges during a morning news conference.
The men are being charged in the deaths of friends and roommates Abreeya Brown, 18, and Ashley Conaway, 22, who were abducted on Feb. 28. Their bodies were discovered March 25 in shallow graves in a wooded area on Detroit's west side, not far from their home in Hamtramck. The women had been bound and shot in the head.
Brandon Cain, 26, Miguel Rodriguez, 24, Reginald Brown, 24, Jeremy Brown, 19, and Brian Lee, 25, all of Detroit, are charged with two counts of first-degree murder, two counts of felony murder, two counts of torture and two counts of unlawful imprisonment.
Authorities said Conaway may have been targeted for telling police that Lee and Cain shot at her nearly three weeks before the abduction.
The two men face attempted murder charges in that case in Wayne County Circuit Court, where they are accused of shooting at Abreeya Brown and Conaway's car on Feb. 8. Witnesses have said Cain had been romantically pursuing Conaway.
Worthy said the case serves as a reminder about the importance of witness protection.
"This case represents many of our fears when it comes to vital witnesses in a case," the prosecutor said. "These women were heroic. They refused to relent and let these defendants deter them from continuing on with their previous case, and they paid with their lives."
Lee's attorney, Arnold Reed, said his client was innocent. Reed said witnesses at a recent hearing in the first case were Cain's family members, and noted that Conway described the suspect as standing 5-foot7 though Lee is 6-foot-1.
"You've got relatives of the co-defendant because they want to save their relative's hide. The girls couldn't even identify my client as being there. There's a heck of a lot of difference between 5'7" and 6'1"," Reed said.
He called the charges baseless, saying prosecutors have no evidence against Lee.
"No finger prints, no DNA, no ballistics. None of that," Reed added. "This is just an effort to quiet down the public, and give the public a little ease."
A message seeking comment was left Saturday by The Associated Press for Cain's attorney, Wright Blake.
Cain and Reginald Brown also are charged with felony firearm, and Cain is charged with being a felon in possession of a firearm in the slayings case.
If convicted as charged, the five men face life in prison without the possibility of parole.
Maria Miller, a spokeswoman for Worthy's office, said she didn't have any information on whether Rodriguez, Reginald Brown and Jeremy Brown have attorneys.
Reginald Brown and Jeremy Brown are cousins unrelated to Abreeya Brown, the prosecutor's office said. They were arraigned Saturday and face a preliminary examination April 19, when a judge will decide if there's enough evidence for them to stand trial.
Cain, Rodriguez and Lee will be arraigned in Hamtramck District Court on Monday. Cain and Lee face arraignment on the attempted murder charges Thursday. Their lawyers have said authorities lack credible evidence against their clients.
Abreeya Brown's stepfather, Major Chapman, testified during a court hearing last month that Brown called him from the trunk of a car after she was kidnapped. Chapman said he was showering in the Hamtramck home he shared with the women when he heard someone "ring the bell frantically."
The 56-year-old said he rushed downstairs and opened the door to see Cain in the street with a gun, and another man dragging his stepdaughter.
Chapman said he traded gunshots with the men before they drove off.
Five minutes later, Brown called saying she and Conaway were in the car's trunk, Chapman said. She didn't say where they were going or who had taken them.