$20M and counting: Feds tackle counterfeit goods ahead of Super Bowl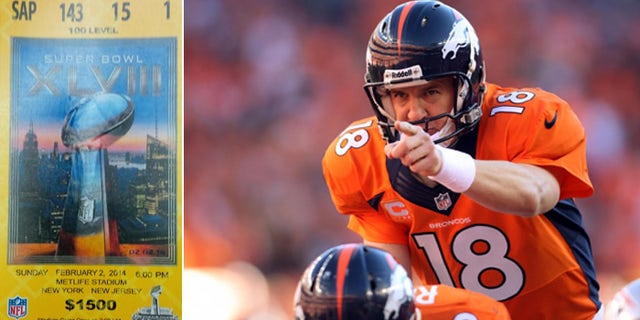 The feds have already set a Super Bowl record -- by seizing some $20 million worth of phony gear smuggled in from all over the world as Sunday's game approaches.
Fake tickets good enough to gain entry to MetLife Stadium, knock-off jerseys and even sex workers descending on the biggest event in American sports are all on the radar of the Department of Homeland Security. The agency has set up a 24-hour operation at JFK airport, where they are confiscating loads of unlicensed Super Bowl paraphernalia in advance of Sunday's game, FoxNews.com has learned.
"We have seized upwards of $20 million worth of counterfeit merchandise, most of which is related to the Super Bowl," said Special Agent in Charge James T. Hayes of Homeland Security in New York. "We've executed 11 arrests so far and expect to make more in the coming days."
Hayes said investigators have confiscated "thousands of pieces" of illegal merchandise, sent mostly from Asian countries like China. The fraudulent items include hats, jerseys and T-shirts made to look like they are officially endorsed by the National Football League for this year's Super Bowl game between the Seattle Seahawks and Denver Broncos as MetLife Stadium in East Rutherford, N.J.
[pullquote]
"If it's produced, it's being counterfeited," Hayes said. "This is the perfect environment for counterfeiters because of street vendors," he said of New York City and areas surrounding the northern New Jersey stadium.
Knock-off goods typically arrive in the U.S. by container ship, but with just two weeks between the Super Bowl and the playoff games that determine who competes in it, Seahawks and Broncos' gear is coming in by plane, in the suitcases of smugglers, officials said.
Hayes and a team of investigators are opening up thousands of packages deemed "suspicious" to "make sure what is claimed is there," said Department of Homeland Security spokesman Ubon Mendie. The NFL has also sent representatives to assist the DHS in determining what is official and what is fraudulent.
"Even a savvy consumer can be fooled," Hayes said.
Mendie noted that the government last year seized more than $17 million in of counterfeit goods related to the NFL's championship, meaning one Super Bowl record has already been broken.
"We have eclipsed that this year," he told FoxNews.com.
Also troubling DHS is the discovery of Super Bowl tickets with a working UPC code -- passes to the game that are hard to distinguish from legitimate tickets.
"The fraudulent ticket schemes that are out there are getting pretty sophisticated," Mendie said. "The intricate systems that we're seeing now are not things we've seen in the past."
"These tickets essentially have a photo-copied bar code," Hayes added.
Hayes is urging the public to always purchase tickets through reputable vendors like Ticketmaster and StubHub for any sporting event.
"You've got to use a legitimate vendor that guarantees that you're going to get a legitimate ticket no matter what," he said.
DHS is also investigating cases of alleged human trafficking in which women and minors are crossing state lines to work as prostitutes during game weekend. Mendie said DHS has already identified suspects and plans to execute arrests "in the next few days."
"We are seeing an influx of people being trafficked to the area," Mendie said. "This is always a problem that we constantly work to eradicate."
Hayes said DHS has reached out to at least 20 hotels in the New York City area about how to identify "signs of a person being trafficked or held against their will."
Hayes said most cases involve women over 18 and under who are foreign nationals -- sometimes unaware of U.S. law and often from countries "where law enforcement isn't trusted."