1 of 2 charged in stadium banner protest pleads guilty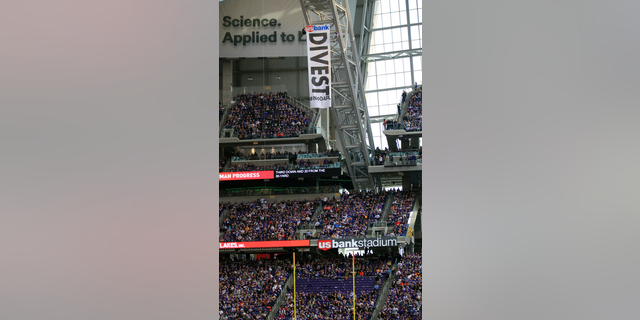 MINNEAPOLIS – One of two people charged with misdemeanors for unfurling a banner protesting the Dakota Access pipeline from the rafters of U.S. Bank Stadium during a Minnesota Vikings game has pleaded guilty to a lesser charge.
Thirty-four-year-old Karl Zimmermann Mayo, of Minneapolis, entered the plea for creating a public nuisance Monday in Hennepin County District Court. Misdemeanor counts of trespassing and burglary were dismissed. The Star Tribune says he'll serve a year of probation and perform 30 hours of community service.
The other person who climbed to the rafters to unleash the banner, 28-year-old Sen Holiday, is currently on trial after she pleaded not guilty to the same misdemeanors.
The banner urged Minneapolis-based U.S. Bank to divest from the $3.8 billion pipeline. Fans seated below the banner were evacuated.
___
This story has been corrected to show that Sen Holiday is a woman, not a man.